The sonic eye: A New Intermedia Avantgarde
Sunday 19 May 2019 from 2:30pm to 4pm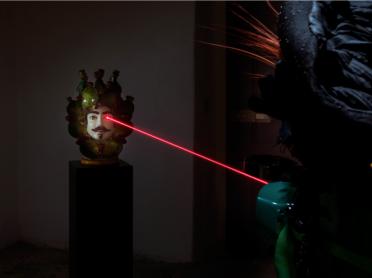 Francesca Gavin in conversation with Invernomuto (Simone Bertuzzi and Simone Trabucchi), Melika Ngombe Kolongo alias Nkisi and James Richards
Francesca Gavin moderates a discussion dedicated to experimental practices at the intersection of contemporary art and music.
Inspired by landmark sonic experimentations from the 1960s and '70s, while also minfdul of the '90s new-media wave, "The Sonic Eye" looks at the present and future of a new intermedia avant-garde which seamlessly merges sound and visual arts. Spotlighting the increasing overlap and interplay between these liminal fields across the work of a new generation of artists—who create video installations, VR videoscapes, sound sculptures, performances and live acts which equally challenge conventional concepts of sound and perceptions of space—the project opens up a hybrid terrain for intermedia experimentation.
Simone Bertuzzi (born in 1983) and Simone Trabucchi (born in 1982) have been collaborating as Invernomuto since 2003. Although their work focuses primarily on the moving image and sound, they also integrate sculpture, performance and publishing into their practice.
Invernomuto explores what remain of subcultures by moving through different media. Oral cultures and minor histories are laid open, their vernacular forms examined. Inauthentic materials play a fundamental role within this process, emphasizing the fictitious realities that inspire them. Bertuzzi and Trabucchi have developed individual lines of research into sound with the outlets Palm Wine and STILL, respectively. Currently they are developing the project Black Med, initiated for Manifesta 12 (Palermo). Their work has been shown at No Fun Fest 2009 (New York), Black Star Film Festival (Philadelphia), Tate (London), Bozar (Brussels), Fondation Ricard and Centre Pompidou (Paris), Villa Medici (Rome), Kunstverein (Munich) und Kunsthalle (Vienna).
Melika Ngombe Kolongo as known as Nkisi is a DJ, producer and founder of the collective NON Worldwide.
As co-founder of NON Records, a collective of African artists and of the diaspora, using sound as their primary media, to articulate the visible and invisible structures that create binaries in society, and in turn distribute power. Nkisi's philosophy and music are marked by a certain punk sensibility, which is accompanied by a political opposition to conformity. Her DJ sets are inspired by a wide range of influences to create a frantic and jubilant dance experience. Her production deeply reflects these inspirations and offers a sound as implacable as evocative.
James Richards is a British artist who lives in Berlin and London. He studied Fine Art at Chelsea College of Art & Design, London. In 2014 he was one of the four nominees for the Turner Prize.
James Richards' practice transcends the usual constraints of film and video projection by accumulating imagery in a manner that resists completion. Rather, the material of video is treated as a resource for constant manipulation. The 'work' emerges through the act of continual reconstitution. Many solo exhibitions present his work such as Requests and Antisongs, ICA London (2016), Crossing with Leslie Thornton, Rodeo Gallery London (2016), Crumb Mahogany, Bergen Kunsthall Norway (2016), Radio At Night, Museum of Contemporary Art Bordeaux (2016) and James Richards, Kunstverein Munich (2015).