Showcase Barbara Carlotti
Monday 16 Jul 2018 from 5pm to 8pm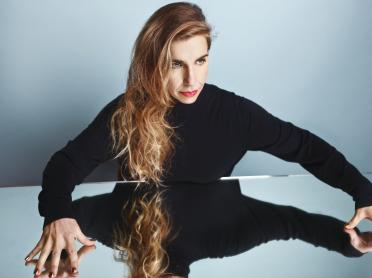 Lafayette Anticipations launches ReBond, an exclusive digital tool designed to guide you through the Fondation's exhibition spaces. On this occasion, Barbara Carlotti and her band will perform a special showcase.
The application is free and optional. Install it on your smartphone and follow Barbara Carlotti's voice, as the French singer embarks you on a special tour of the summer show, Le centre ne peut tenir ("The center cannot hold").

Within her own musical practice, Barbara Carlotti often experiments with various artistic fields such as cinema, radio broadcast and visual arts. ReBond offers her to introduce her favorite works of the show, as well as artists and curators to express their viewpoints, stimulating the visitor's curiosity without interfering too extensively with the contemplation of the art.

During this event, access to the exhibition is free until closing time (10:00 pm).

Booking is recommended via email: mediation[at]lafayetteanticipations[.]com.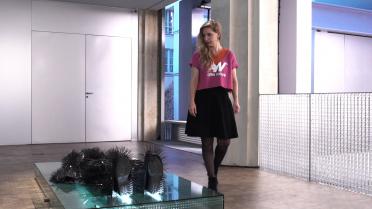 "I can tell you about the shape of the universe and the architecture of the skies, I know the patterns which connect us and the fire that lights up our souls…" says Barbara Carlotti in her song Radio Mentale Sentimentale. If music is a living wave made of abstract spreading curves, Barbara Carlotti certainly knows how to draw its shape. For that matter, her whispering on the radio tells as much as her songs and performances.
In 2012, she was a nominee at Victoires de la Musique. In 2013 and 2014, she produced the radio program Cosmic Fantaisie on France Inter. Her voice then guided us into futuristic islands and sonic outer space. Since 2015, she has been developing Dream Laboratories, based on music and literature, where she shares her oniric visions with friends like Christophe, Philippe Katerine, Juliette Armanet or the writer Jonathan Coe. Her 2018 album Magnétique questions our senses and our imagination in addictive ritournelles. It is an invitation to daydream, a soft-skinned record that allows magical worlds to unfold, a desire-infused universe that embarks you on an unforgettable journey.
The lafayetteanticipations.com website uses cookies for audience measurement purposes.
By continuing your navigation on this site, you accept their use.