PEROU, Navire Avenir
Saturday 25 Sep 2021 from 12pm to 4pm
Sunday 26 Sep 2021 from 12pm to 5pm
Free workshop, on booking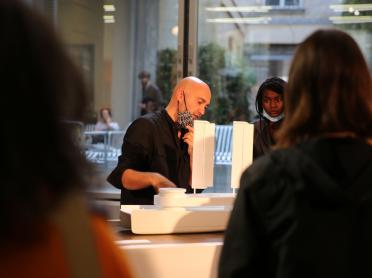 A writing and public reading performance workshop led by Sébastien Thiéry with Noëmie Ksicova and Yves-Noël Genod in the context of the inscription of acts of hospitality on UNESCO's intangible cultural heritage list.
The PEROU - Pôle d'Exploration des Ressources Urbaines - works to collect, write and share the formidable gestures of hospitality that are deployed in the four corners of our metropolises.
Far from the reductive narrative that relegates refugees or exiles to a nomenclature and figures, PEROU takes note of the innumerable life paths that are theirs and of the hospitable and vital acts that are woven between them all.

In order to make them known and no longer silent, the PEROU has launched a shipyard aiming to design and float by 2024 a sea rescue boat, a place of welcome and care, a manifest and witness place, a collective work which articulates the engineering specific to the shipyard and the multiple echoes that such a project questions and requires: legal formalizations, artistic translations, driving force of the idea itself and of its realization.

In this long process, PEROU stops by Lafayette Anticipations and proposes a writing workshop and public reading of the future inauguration speech of this NAVIRE AVENIR. Starting from a framework co-written by Sébastien Thiéry, coordinator of PEROU's actions, and the author Marielle Macé, the participants will transform, amend, and write a speech, their common speech, which they will give to the public, with the complicity of a guest artist. No doubt that these shared words will project us into a future finally rich in our enthusiasm.

Saturday 25 September from 2pm to 6pm with Sébastien Thiéry and director Noëmie Ksicova:
Public reading at 5.15pm (duration: 25 minutes)
Sunday 26 September from 2pm to 7pm with Sébastien Thiéry and director Yves-Noël Genod :
Public reading at 4.15pm and 6.30pm (duration: 25 minutes)
Sébastien Thiéry est docteur en sciences politiques.
Il enseigne d'abord le droit public et les sciences politiques à l'Université Paris I Panthéon-Sorbonne, puis ses recherches et enseignements se poursuivent à l'interface entre art contemporain et activisme en écoles d'art, d'architecture ainsi qu'à l'Ecole des arts politiques fondée par Bruno Latour à Sciences Po Paris.
Membre actif des Enfants de Don Quichotte en 2006, il fonde le PEROU (Pôle d'Exploration des Ressources Urbaines) avec Gilles Clément en 2012, et en dirige les recherches-actions depuis lors dans bidonvilles, jungles, squats et refuges en tout genre. Dans ce cadre, il est pensionnaire à la Villa Médicis en 2020 où, en collaboration avec divers artistes, chercheurs et collectifs en Europe, il coordonne une instruction auprès de l'UNESCO visant à faire reconnaître l'acte d'hospitalité au Patrimoine culturel immatériel de l'humanité.
Membre du comité de rédaction de la revue Multitudes, il est l'auteur de divers rapports de recherche, expositions, films et ouvrages dont Considérant qu'il est plausible que de tels événements puissent à nouveau survenir. Sur l'art municipal de détruire un bidonville (2013, Post Editions) et Des Actes. A Calais et tout autour (2018, Post Editions).
Yves-Noël Genod se présente lui-même comme un "distributeur" de poésie et de lumière, il n'invente rien qui n'existe déjà, il fait passer le furet, "passé par ici, il repassera par là", il révèle.
Né en 1972, il a toujours joué, mis en scène. Il travaille d'abord avec Claude Régy et François Tanguy (théâtre du Radeau). A partir de la pratique du contact improvisation, il dérive vers la danse avec une collaboration principale avec Loïc Touzé. Celui-ci lui propose, en 2003, à l'occasion d'une carte blanche au festival Let's Dance du Lieu Unique (Nantes), de fabriquer son premier spectacle. Ce spectacle, intitulé En attendant Genod, s'appuie sur le modèle des stand-up anglo-saxons. Les commandes (toujours des "cartes blanches") s'enchaînent ensuite : spectacles - près d'une centaine à ce jour- et performances, présentés le plus souvent dans des festivals ou des lieux de danse ou de formes hybrides. Un théâtre dont on aurait enlevé le drame, l'action, et dont il ne resterait que la poésie, le fantôme, la trace. Yves-Noël Genod a travaillé avec de nombreux interprètes qu'on retrouve désormais sur les plus grandes scènes ; on peut dire dans ce sens qu'il a marqué une génération.
Après des études de violon, Noëmie Ksicova se forme à l'INSAS à Bruxelles en mise en scène.
Elle n'y reste qu'un an décidant de rentrer en France pour travailler comme comédienne. Au théâtre, elle joue notamment sous la direction de Maurice Bénichou, Sandrine Pirès, Patrick Haggiag, Jean-François Mariotti et pour la télévision.
A partir de 2013, elle se concentre sur ses projets de mise en scène, d'installations et d'écriture. Elle réalise deux performance en Suisse, Chaines et Vertiges ainsi que deux installations vidéos Il fait beau et Lait. En 2017, elle créé Rapture pour partie librement inspiré du Ravissement de Lol. V. Stein de Marguerite Duras à Mains d'Oeuvres où elle est en résidence.
Rapture sera repris au Théâtre de Belleville en 2018. En 2019, elle intègre le Pôle européen de création Campus Amiens Valenciennes. Elle crée Loss en 2020.
Noëmie intervient régulièrement auprès de différents publics dans le cadre d'ateliers. Elle est également artiste compagnon à la MCA d'Amiens et artiste colibri à la Compagnie de l'Oiseau Mouche.