An installation by Camille Blatrix
Every Thursday from February, 21 to April, 25 2019, tour every half an hour
Free admission without reservation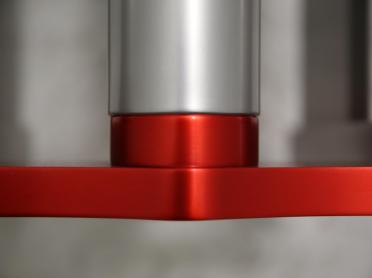 As part of the Fondation's opening, Camille Blatrix has explored for one year a concealed space of the building that may be seen only if accompanied by a cultural mediator.
Located near the production workshop – where the piece was assembled – and at a distance from the exhibition space – where we would expect to find it, the young artist's semi-permanent installation echoes the Fondation's technical functions. It was inspired by the geothermic wells and the network that irrigate the building at its heart: Camille Blatrix interprets these fluids as the generator of a continual flow that releases an unremitting energy.

Despite a smooth and glazed appearance and the aesthetics of standardized production that features them, Camille Blatrix's pieces seek to establish an emotional and poetic connection with the viewer, thus blowing the heat or the cold. These animated machines show the worrying condition of bodies in today's world. Inspired by advertising and film strategies that manipulate emotions, fears and fascinations, Camille Blatrix continually questions, admires and depreciates stereotypical images, as well as their impact on our imagination and feelings.

This installation may be seen only if accompanied by a cultural mediator.
Camille Blatrix's sculptures present themselves as artifacts from a near future, emulating the forms of everyday objects while obscuring their own purpose.
Machine-like in their appearance, the surfaces of his works disguise the artist's labor, as each sculpture combines elements that are industrially fabricated with those that are meticulously handcrafted using a variety of traditional techniques. In his practice, Blatrix interjects coded references, allowing initially anonymous objects to become an apparatus for recording fleeting emotions and interactions. In 2018, his work included in group exhibitions at Palais de Tokyo, Paris, Hessel Museum of Art and the CCS Bard Galleries, Annandale-on-Hudson, and MRAC, Serigan. Additionally, Blatrix had a solo exhibition at Taylor Macklin, Zurich. Past solo exhibitions include Galerie Balice Hertling, Paris, 2017, CCA Wattis, San Francisco. 2016, and Mostyn Museum, Wales 2015. Blatrix participated in the 2015 Lyon Biennale. Camille Blatrix studied at the École Nationale Supérieure des Beaux-Arts in Paris. In 2014, he received the Prix Fondation d'entreprise Ricard.