Impromptu - Étape de Travail x Boris Charmatz et [terrain]
Monday 13 Jun 2022 from 2pm to 3pm
Tuesday 14 Jun 2022 from 2pm to 3pm, from 8pm to 10pm
Wednesday 15 Jun 2022 from 2pm to 3pm, from 8pm to 10pm
Thursday 16 Jun 2022 from 8pm to 10pm
Friday 17 Jun 2022 from 8:30pm to 9:45pm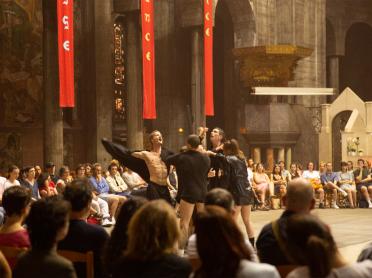 To conclude his "Workshop in Residence", dancer and choreographer Boris Charmatz opens to the public the first work and research sessions of his next show, Liberté Cathédrale, which will be created in 2023.
For a week, at the Saint Esprit church (Paris 12e), accompanied by eleven dancers, he will investigate the movements and possible choreographic materials of this upcoming show.
Based on the notion of church and its Greek etymology ekklêsia, which translates as assembly, this project carries with it the idea of gathering, and the desire to make two key instruments ring out: the organ and the bells.

From 13 to 17 June, in the crypt and the nave, spectators are invited to warm up, observe, listen, and project, in the course of a programme that is constantly in motion.

→ Collective warm-up with the dancers in the Crypt of the Eglise Saint Esprit :
13, 14, 15 June from 2 to 3 pm
Please arrive at 1.50 pm and bring comfortable clothes.
Meet in front of 7 rue Cannebière, 75012 Paris

→ Open rehearsals in the Church:
14, 15, 16 June from 8pm to 10pm
Access via 186, avenue Daumesnil, 75012 Paris

→Impromptu choreography:
By the dancers of the artistic team
17 June at 8.30pm
Estimated duration: 1h15
Access via 186, avenue Daumesnil, 75012 Paris
Free of charge, upon registration, subject to availability.

With the dancers Laura Bachman, Régis Badel, Guilhem Chatir, Ashley Chen, Julien Gallée-Ferré, Tatiana Julien, Georges Labbat, Noémie Langevin, Simon Le Borgne, Johanna Elisa Lemke, Solène Wachter

Organ: Hampus Lindwall
Concept: Boris Charmatz
Choreographic assistance: Magali Caillet Gajan
Lighting: Yves Godin
Sound: Olivier Renouf
Costumes: Florence Samain
Vocal work: Dalila Kathir
Stage manager: François Aubry
Stage manager: Baptiste Schnunt
Sound manager: Périg Menez
Managing director [field]: Hélène Joly
Production management : Lucas Chardon, Martina Hochmuth
Production managers: Jessica Crasnier, Briac Geffrault
production: [terrain].

With the support of Lafayette Anticipations, as part of the Workshop in Residency.
Boris Charmatz is a dancer, choreographer and artistic director.
Dancer, choreographer and artistic director of [terrain], Boris Charmatz subjects dance to formal constraints that redefine the field of its possibilities. From Aatt enen tionon (1996) to SOMNOLE (2021), he has created a series of landmark pieces in parallel with his activities as a performer and improviser (notably with Médéric Collignon, Anne Teresa De Keersmaeker and Tino Sehgal).
From 2009 to 2018, Boris Charmatz directs the Musée de la danse, Centre chorégraphique national de Rennes et de Bretagne.
In September 2022, he will take over the direction of the Tanztheater Wuppertal Pina Bausch and will develop a new Franco-German project with [terrain].
Boris Charmatz is also an artist accompanied by Charleroi danse (Belgium) for three years (2018-2021).from 2018 to 2022.
The lafayetteanticipations.com website uses cookies for audience measurement purposes.
By continuing your navigation on this site, you accept their use.