Images in the Move : Between Art and Cinema
Saturday 18 May 2019 from 2:30pm to 4pm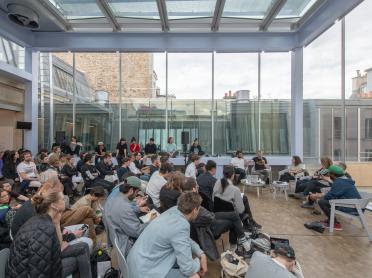 Andrea Lissoni in conversation with Romain Gavras, DIS Magazine (Marco Roso and Lauren Boyle), Le Cinéma Club (Marie-Louise Khondji) and Black Radical Imagination (Amir George)
Over the past twenty years the dialogue between art and cinema has been presented as of the most refreshing and innovative among disciplines, triggering specific exhibitions, new festival sections, studies, publications, symposia and enthusiastic debates.
However, apart from very few exceptions, neither main exhibitions nor festivals have in the end challenged so much their traditional forms. Contemporary art and the art of cinema, as well as their hosts, the galleries and the cinema room, are modern classics. Yet, images are in the move.
Where are they headed? Who is really challenging them, be artists or art-house filmmakers? How?
Welcome to the oasis of all answers.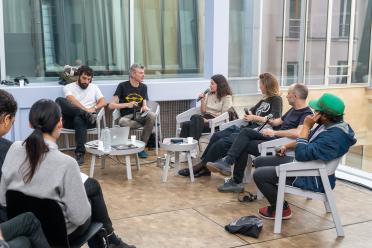 Andrea Lissoni, PhD, is Senior Curator, International Art (Film) at Tate Modern, London. Formerly curator at HangarBicocca (Milan), the co-founder of the independent artistic network Xing and co-director of the international festival Netmage (Bologna), he co-founded Vdrome in 2012, an online screening programme for artists and filmmakers, which he co-curates since then.
At Tate Modern he launched a yearly Cinema Programme conceived as an exhibition unfolding throughout the year, he co-curated the display and the live programme at the opening of the Blavatnik Building in 2016, the 2017 and 2018 BMW Live Exhibition, the 2016 Hyundai Turbine Hall Commission by Philippe Parreno and the expanded exhibition Joan Jonas (2018). He was the co-curator of the Biennale de l'Image en Mouvement The Sound of Screens imploding, Centre d'Art Contemporain Genève (2018).
Romain Gavras is a French filmmaker and the co-founder in 1994 of the collective Kourtrajmé with Kim Chapiron. He directs many short films and is also known for making clips such as Changer le monde ("Change the World") by the French rapper Rocé or Pour ceux ("For those") by the Mafia K1fri, a register that enables him to be famous.
In 2009 he created his first feature film, Notre jour viendra ("Our day will come"), in which he explored the theme of the stigmatization of redheads. Then he assists his former partner, Kim Chapiron, as a second-team director on La Crème de la crème and signs several clips for prestigious artists (Jay-Z and Kanye West) and luxury brands (Dior, Vuitton). Romain Gavras returns to the feature film in 2018 with Le Monde est à toi ("The World is Yours"), an atypical gangster comedy.
For nearly a decade, DIS collective has continuously embraced, engaged and reinvented important new platforms for the production, dissemination and discussion of contemporary art. Through it's own unique platforms and curatorial projects like the 9th Berlin Biennale, DIS enhances and amplifies the possibilities and capabilities of art and its role in the artistic, commercial, educational, and public spheres - folding all into one.
In 2018 the collective transitioned platforms from an online magazine, dismagazine.com, to a video streaming edutainment platform, dis.art, narrowing in on the future of education and entertainment. DIS enlists leading artists and thinkers to expand the reach of key conversations bubbling up through contemporary art, culture, philosophy and technology, with the aim to inspire, inform and mobilize a generation around the urgent issues facing us today and tomorrow. DIS has also exhibited and organized shows at the Young Museum (San Francisco), La Casa Encendida (Madrid), Plug In Institute of Contemporary Art (Winnipeg), Baltimore Museum of Art and Project Native Informant (London). DIS has been included in group exhibitions at MoMA PS1, Museum of Modern Art and the New Museum (New York), Musée d'Art Moderne de la Ville de Paris, ICA Boston, Museum of Contemporary Art Chicago, among others.
Founded by Marie-Louise Khondji in 2015, Le Cinéma Club acts as a global filmmaking rendez-vous - an online destination that film lovers can revisit weekly to find something new, surprising, and inspiring.
Rooted in both New York and Paris, the site is deeply engaged with the international film landscape and community as a whole. The platform will relaunch in June, continuing to pursue the most exciting and rewarding currents in world cinema and expanding its editorial mission.
Black Radical Imagination was co-founded by Erin Christovale and Amir George in 2013 and is an international touring program of experimental short films emphasizing new stories from within the African diaspora. The series builds on afrofuturist, afrosurrealist and magical realist aesthetics to interrogate identity in the context of cinema.
Black Radical Imagination is curated by Amir George and is composed of the artists Ephraim Asili, Dana Washington and Sudé Woods. The notion of the Black Radical Imagination stemmed from a series of discussions around the boundaries and limitations that are historically placed upon people of color : "Without new visions, we don't know what to build, only what to knock down. We not only end up confused, rudderless, and cynical, but we forget that making a revolution is not a series of clever maneuvers and tactics, but a process that can and must transform us", Robin D.G. Kelley, Freedom Dreams : The Black Radical Imagination.
The lafayetteanticipations.com website uses cookies for audience measurement purposes.
By continuing your navigation on this site, you accept their use.