De nos mains réunies
Thursday 21 Apr 2022 from 7pm to 8pm
As part of the Prix Emmaüs de la Jeune Création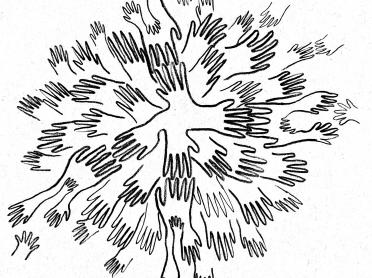 The performative installation De nos mains réunies is the result of several months of research workshops.

The hand appears as the matrix of the project, as it is that of creation and exchange. A vector of giving as well as receiving, the hand offers as much as it receives; it is our first relationship to the sensitive world.

With their hands, Luc, Anita-Florence, Abdallah, Badra, Nicolaï, José, Adjoua, Alioune and Alex manipulate and activate the elements of the installation that is being transformed. A vertical hand sculpture is stretched out and transformed into an altar and a horizontal landscape appears. Hands, objects and bodies dance, shout and declaim around a table thus formed, as a witness to this completed procession.

In a ballet rich in meaning, bowls are passed from hand to hand, fragrances mingle and tastes are pronounced. This ultimate communion has the air of a ritual, celebrating sharing and humbly reminding each of us of the richness and essential nature of adelphity.

-

Lafayette Anticipations is hosting Emmaus Solidarity for Contemporary Creation, which offers people supported by Emmaus the opportunity to elect a young artist to produce a collaborative work. On the occasion of the 71st Jeune Création festival, it was awarded to the artist Luc Avargues.
Born into a family close to the land and its vines, Luc Avargues' work questions the essence of food, the act of eating in its simplest dimension, that of prolonging life.
His cooking is that of his grandmother and his mother, an ancient practice that has been passed down. The installations proposed by Luc Avargues are to be performed. First of all by himself, but also by the public, to whom he gives a central place.
His spectator is an actor. When the artist executes a recipe live on furniture he has built, it is the act of cooking for others that he puts on a pedestal. Under the gaze of the audience, he builds his sculpture, the material of which is food. Once the preparation is complete, he withdraws and the audience ingests the food that has been transubstantiated into art. Then comes the time of the relic, where the traces of the action remain. Furniture, pans, soiled rags, crumbs and leftovers, all bear witness to the ceremonial of the meal and its preparation for a sacred time. As if to remind us that this banal gesture is in fact at the centre of life.