CURL + Tara Clerkin Trio
Sunday 10 Apr 2022 from 8pm to 11:30pm
Included in the 2 day pass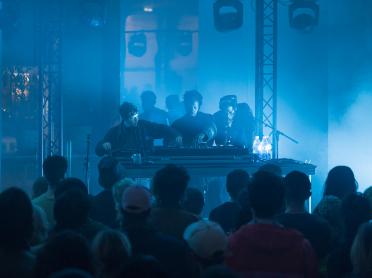 Second and last evening of Closer Music dedicated to collective energies with CURL and Tara Clerkin Trio.
→ CURL
Each in their own way, the members of the London collective CURL have contributed to bringing a bit of poetry, melancholy and humanity to synthetic music. Within this entity, we find Coby Sey, a discreet but key figure of the current London underground. Collaborator of Tirzah, Kwes, Kelly Lee Owens or Babyfather, he is celebrated for his approach which often evokes a dreamy antechamber of the dancefloor. Songwriter, MC, producer... It would be a mistake to reduce Brother May only to his status of multidisciplinary artist. He describes himself as a "sculptor of ideas" and it is probably this approach that gives his music that extra fleshiness. Mica Levi is a cornerstone of contemporary music, navigating between film soundtracks and poetic, even melancholic experiments. The members of CURL have come together to transcend practices and disciplines, in a approach that seems highly necessary today.

→ Tara Clerkin Trio
Experimental music for those who don't like it? This is probably a good way to sum up the approach of Tara Clerkin Trio, three young musicians from Bristol who took everyone by surprise with the release of their first album in 2020. With a real science of ambiences, inherited as much from jazz as from library music, an iconoclastic ardour that pushes them to forbid themselves nothing and a certain love for melodies, the group succeeds in the challenge of a timeless music and yet full of innovations. In a few bars, we go from noise passages to synthetic minimalism, from vintage psychedelia to perfectly mastered vocal harmonies in a climate of permanent surprise.
CURL is a collective based in London featuring Mica Levi, Coby Sey, Brother May among others.
The trio comprises of Tara Clerkin, Sunny-Joe Paradisos and Patrick Benjamin who've been playing together and apart in various guises and forms in Bristol for around a decade.
Drifting from dubby minimalism to smudged acid jazz, Tara's stark and tuneful voice acts as the vehicle for her concise poetic lyricism.
The group coalesce disparate influences into a cohesive sound, reflecting a romantic view of a familiar world.