Co-Ideology: Perks and Problems of Sharing
Friday 17 May 2019 from 2:30pm to 4pm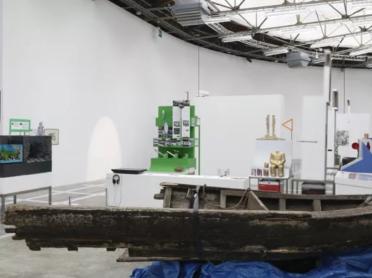 Caroline Busta in conversation with Neil Beloufa, Simon Denny and Young Girl Reading Group
In a Western context, "collaboration" is typically enacted either for the optics of co-branding - the marketing of a product under two brand names - or as a questionably effective exercise in corporate team-building. Naturally occurring "collaboration," where individual identity is de-emphasized as a collective body comes to the fore is largely antithetical to the personal competition neoliberal capitalism reinforces.
In this panel,
Caroline Busta
, founder of
https://newmodels.io
, speaks with artists
Neil Beloufa
,
Simon Denny
as well as Dorota Gawęda and Eglė Kukbokaitė of the artist-collective
Young Girl Reading Group
about the terms of collaboration today. Not only do each of these panelists has practices that require the coordination of many different co-producers but the subjects they engage and the performances they stage are often sited in various parts of the world, including regions where notions of individual and collective, authorship and ownership vary greatly.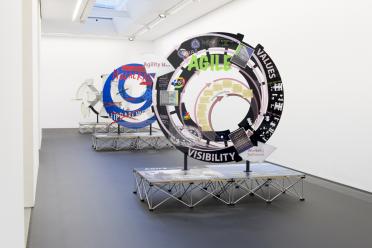 Caroline Busta is the founder of New Models, a pro-complexity media node for the critical analysis of art, tech, politics, and pop culture. From 2014-2017, she served as the editor-in-chief of the Berlin-based journal Texte zur Kunst ("From Texts to Art") and previously as an associate editor of Artforum magazine in New York.
Neïl Beloufa is a Franco-Algerian artist living and working in Paris, recognized for his video installations. He studied at the École nationale supérieure des Beaux-Arts and at the École nationale supérieure des Arts Décoratifs in Paris, the California Institute of the Arts in Valencia (United States), Cooper Union (New York) and Fresnoy - National Studio of Contemporary Arts, Tourcoing (France). He created a self-managed art space in Villejuif.
He has received many nominations including the Meurice Prize for Contemporary Art (2013), the Marcel Duchamp Prize (2015) and the Nam June Paik Award (2016). His work is also the subject of several solo exhibitions in France - at the Palais de Tokyo in 2012 and 2018 - and internationally, including K11 (Shanghai, 2016), MoMA (New York, 2016), Schinkel Pavillon (Berlin, 2015), ICA (London, 2014), Hammer Museum (Los Angeles, 2013). Neïl Beloufa took part in the Biennale of Contemporary Art in Shanghai (2014), in the 55th International Contemporary Art Exhibition of the Venice Biennale as well as in the Lyon Biennale of Contemporary Art (2013). His work is present in many prestigious collections including those of the Musée national d'art moderne - Centre Georges Pompidou and MoMA, as well as the Sammlung Goetz and the Julia Stoschek collection. Neïl Beloufa is currently represented by galleries Balice Hertling in Paris, Mendes Wood in New York and Sao Paulo, Galleria Zero in Milan and François Ghebaly in Los Angeles.
Simon Denny is an artist working with installation, sculpture, print and video. He makes exhibitions that unpack the social and political implications of the technology industry and the rise of social media, startup culture, blockchain and cryptocurrency.
He studied at the Elam School of Fine Arts, University of Auckland, graduating with a BFA in 2005 and at the Städelschule, Frankfurt am Main, with a Meisterschule in 2009. Denny's artwork is held in major collections internationally and has exhibited widely including solo exhibitions at Kunstverein (Munich, 2013), Portikus (Frankfurt, 2014), MoMA PS1 (New York, 2015), Serpentine Galleries (London, 2015), WIELS Contemporary Art Centre (Brussels, 2016), Hammer Museum (Los Angeles, 2017), OCAT (Shenzhen, 2017) and MOCA (Cleveland, 2018). He represented his birth country New Zealand at the 56th Venice Biennale in 2015. Denny co-founded the Berlin Program for Artists, an artist mentoring program in 2016 with Willem de Rooij and Angela Bulloch. Since 2018, he is a professor for Time Based Media at the HFBK, Hamburg.
Dorota Gawęda (born in 1986, Lublin, PL) and Eglė Kulbokaitė (born in 1987, Kaunas, LT) are an artist duo founded in 2013, based in Basel (CH) and Athens (GR). Both are graduates of the Royal College of Art, London (2012). In their work they address feminist inspired theory and fiction, technology-driven emancipation and discursiveness of space.
They are the founders of YOUNG GIRL READING GROUP (2013), a project which examines the relationships between reading, affect, distraction, togetherness and disunity, bodily and virtual presence, live action, documentation, self and environment. They have previously exhibited at Palais de Tokyo (Paris), MMOMA (Moscow), ICA (London), HKW (Berlin), Spazio Maiocchi (Milan), Art in General (New York), CAC (Vilnius), Kunsthalle Basel, Kunstverein für die Rheinlande und Westfalen (Düsseldorf), Museum of Modern Art (Warsaw), Berlin Biennale 9, Le Musée d'Art moderne de la Ville de Paris among others. Upcoming exhibitions of the duo include solo exhibitions at FUTURA, Prague and as part of horizontal vertigo at Julia Stoschek Collection, Berlin/Düsseldorf. Gawęda and Kulbokaitė are currently on Triangle France residency in Marseille.
The lafayetteanticipations.com website uses cookies for audience measurement purposes.
By continuing your navigation on this site, you accept their use.