Boris Charmatz and Emma Bigé
Monday 07 Feb 2022 from 5:30pm to 7:30pm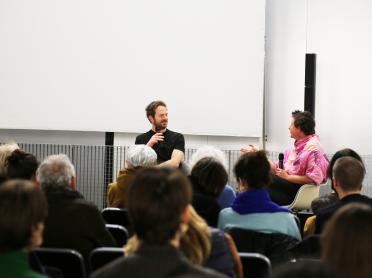 For this second workshop-in-residence of the 2021-2022 season, Boris Charmatz invites the philosopher, researcher and curator Emma Bigé for a conversation about the research that drives his experimental project [terrain], and reflections for his next creation, Liberté Cathédrale.
Using images from César Vayssié's film Tanzgrund about the first three-week experiment of [terrain] at the 2019 Theater Spektakel festival in Zurich, Boris Charmatz and Emma Bigé will discuss the ideas of choreographic assemblies, institutions without walls and open-air churches, bodies dancing in the open air, and the many other principles and questions that inform the work on the Liberté Cathédrale project.

TANZGRUND, 2021 - Format 16/9 HD, couleur
Director: César Vayssié
Post-production: A-FE
Production and diffusion: [terrain] - Coproduction : Théâtre du Châtelet
Special thanks to Matthias von Hartz & team Theater Spektakel Zürich.
Filmed during terrain | Un essai à ciel ouvert. Ein Tanzgrund für Zürich (2019) of Boris Charmatz, Zürcher Theater Spektakel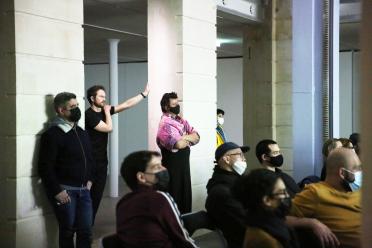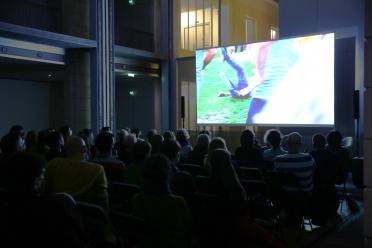 Boris Charmatz is a dancer, choreographer and artistic director.
Dancer, choreographer and artistic director of [terrain], Boris Charmatz subjects dance to formal constraints that redefine the field of its possibilities. From Aatt enen tionon (1996) to SOMNOLE (2021), he has created a series of landmark pieces in parallel with his activities as a performer and improviser (notably with Médéric Collignon, Anne Teresa De Keersmaeker and Tino Sehgal).
From 2009 to 2018, Boris Charmatz directs the Musée de la danse, Centre chorégraphique national de Rennes et de Bretagne.
In September 2022, he will take over the direction of the Tanztheater Wuppertal Pina Bausch and will develop a new Franco-German project with [terrain].
Boris Charmatz is also an artist accompanied by Charleroi danse (Belgium) for three years (2018-2021).from 2018 to 2022.
Emma Bigé dives, teaches, translates, writes and improvises with experimental dances and compost-oriented philosophies.
Her work includes two exhibitions-in-dance, Gestures of Contact Improvisation (Dance Museum, 2018) and Steve Paxton: Drafting Interior Techniques (Culturgest, 2019). Her first book, Mouvementements, Écopolitique de la danse is published by La Découverte in 2023. She teaches epistemology and textual practices in art schools, and the rest of the time she rolls on the floor.