Around the Centre #1
Saturday 07 Jul 2018 from 4pm to 8pm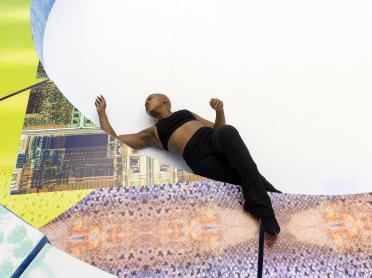 With Titilayo Adebayo, Danielle Dean, Paul Maheke, Nkisi, Maboula Soumahoro, NON Worldwide DJ set.
This highlight of the exhibition Le centre ne peut tenir in Lafayette Anticipations' Agora gathers three participating artists - Danielle Dean, Paul Maheke, and Nkisi - and their collaborators around a program conceived in complement to their new productions. Together, they tackle themes of representation, beyond categories of race and gender, subject-making or even strategies of disidentification and protection, such as translucence.

The evening begins with a conversation between Danielle Dean and Maboula Soumahoro, professor and founder of Black History Month in France, regarding Dean's participatory film. Maboula Soumahoro was a key interlocutor in this project that attempts to deconstruct the racial dynamics attached to objects of consumption as well as their implicit class and gender biases. Dean and Soumahoro will engage in a dialogue on the artistic and discursive processes of Bazar, tackling the larger themes of construction and deconstruction of roles.

The second part of the evening is a choreographed performance by Ligia Lewis in collaboration with Paul Maheke, and preformed by Titilayo Adebayo to a rhythm composed by Nkisi. Concise repetitive gestures, mumbled words akin to spells being cast, ambiguous objects, ghostly shadows and long echoes serve as strategies to build a poetic, ambiguous and penetrating space, oscillating between the visible and the erased. The performance will be followed by a DJ set by Nkisi, inviting the audience to join their movements to those of the performers.

Evening programme:

6 PM: Conversation between Danielle Dean and Maboula Soumahoro
8 PM: Performance by Ligia Lewis, Paul Maheke, Nkisi and Titilayo Adebayo
8:30 PM: DJ set by Nkisi

Access free of charge for all.

Through a varied and often collaborative body of work comprising performance, installation, sound and video, Maheke considers the potential of the body as an archive in order to examine how memory and identity is formed and constituted.
The artist studied at the École nationale supérieure d'arts in Cergy and at Open School East, London/ Margate.
His work has been shown at the Tate Modern, Chisenhale Gallery and South London Gallery (London); the Venice Biennale; The Renaissance Society (Chicago); Astrup Fearnley Museet and Heinie Onstad (Oslo); Rudolfinum Gallery (Prague); Centre Pompidou, Palais de Tokyo, Bourse de Commerce - Collection Pinault and Lafayette Anticipations (Paris); MO. CO (Montpellier); Triangle France (Marseille); Baltic Triennial 13; Manifesta 12 (Palermo); Cabaret Voltaire (Zurich), among others. He has been nominated for the 21st Ricard Corporate Foundation Prize in 2019, the Future Generation Art Prize in 2021 and was included in British Art Show 9.
British-American artist of Nigerian descent, Danielle Dean studied Fine Art at Central St Martins in London and received her MFA from California Institute of the Arts. She has been a Whitney Independent Study Program Fellow in New York and is an alum of the Rijksakademie in Amsterdam. Dean currently teaches at Cranbrook Academy of Art in Detroit.
Her work focuses on deconstructing commercial narratives, branding and advertising strategies that often play a role in the construction of the self. She examines commercial images and languages that vehicle ideologies and shape subjectivities, while attempting to unravel their power structures. Often this material (from Nollywood-style soap operas, animation movies, slogans from commercials and political speeches) are rearticulated and combined to critical effect in video works and multimedia installations (
www.danielledean.art
). Recent solo exhibitions include
True Red Ruin
at the Museum of Contemporary Art Detroit (2018), and
a shoe, a phone, a castle
at Commonwealth and Council in Los Angeles (2017). Danielle Dean's work was featured in recent group exhibitions such as
It Can Howl
at Atlanta Contemporary Art Center (2016),
Shifters
at Art in General in New York (2016), and
Made in L.A.
at the Hammer Museum in Los Angeles (2014). Her film
True Red Ruin (Elmina Castle)
was presented this year at the Artist's film international at The Whitechapel Gallery in London. Later this year, her work will be presented in a group exhibition in Stedelijk Museum, Amsterdam.