The Last Diamond
Materials:
Clothes pegs, Diffusers, Perfume
Dimensions:
Variable dimensions
Collection:
Lafayette anticipations - Fonds de dotation Famille Moulin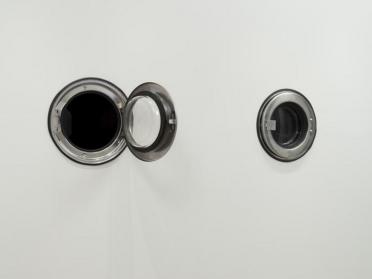 Deep-fried flowers, expired powdered milk, snail mucus and the scent of forgetting: Anicka Yi's oeuvre reveals her predilection for the fleeting and the perishable. After developing a fragrance related to memory loss with the perfume designer Barnabé Fillion, Anicka Yi applied it to the pages of her first monograph. Her research into the olfactive transcription of memory loss then took form in The Last Diamond. Two aromas emanate from the two partially-open dryer doors that make up the installation. Through this intermingling of scents, the artist wishes to create an alchemy that smells of amnesia. The Last Diamond bears witness to the artist interest in experiments that are at once chemical and techno-sensual, with a heightened psychological value.
Exhibitions
You
Musée d'Art Moderne de la Ville de Paris, Paris (France)
from 11 Oct 2019 to 16 Feb 2020
7,070,430K of Digital Spit
Kunsthalle Basel, Bâle (Suisse)
from 12 Jun to 16 Aug 2015
Production specifications
The Fondation preserves and documents traces of the works at various stages of their creation (sketches, models, prototypes, etc.).
Changement d'intensité de la fragrance