Mimosa Échard

Born in 1985 at Alès (France).
Lives and works in Paris (France).
Her artistic practice encompasses a wide diversity of processes and media (assemblage, painting, ceramic, etc.) and explores the various intermediary stages between the natural world and that of trade.
Her pieces destroy these processes, reverting to a previous evolutionary stage which features non-linear archaeology and gathers fauna, pop icons and other rare fossils. Mimosa Echard graduated from the École Nationale Supérieure des Arts Décoratifs in Paris in 2010. In 2015, she is nominated for the Meurice Prize, and in 2014 she is invited for a residency at Lafayette Anticipations - Fondation d'entreprise Galeries Lafayette. She presented her first solo exhibition iDEATH at Samy Abraham gallery in 2016. Her works are part of the Centre national d'art contemporain, the Musée d'Art Moderne de la Ville de Paris, Domaine de Chamarande, FRAC Corse, Fondation d'entreprise Galeries Lafayette and Sadami Art Foundation.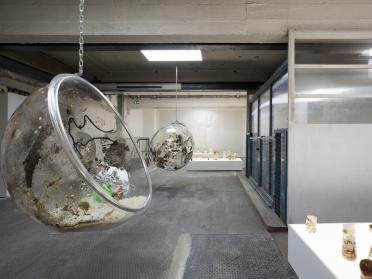 Works from the Collection