A/B8
Materials:
Seaweed, Kombucha, Depilatory wax, Epoxy resin, Packaging, Insects, Brewer's yeast, Boots and Schaebens skin supplements, rose petals
Dimensions:
180 x 200 x 6 cm
Collection:
Lafayette anticipations - Fonds de dotation Famille Moulin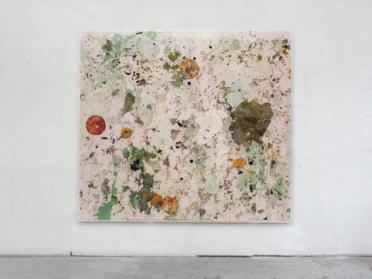 Mimosa Échard created the A/B series, of which A/B8 is a part, using large Plexiglas panels whose surface is covered with a heterogeneous assemblage of discarded objects and natural elements attached with depilatory wax. The delicate luminescent aspect of the work, with its pink and celadon hues, is reminiscent of selfies retouched with filters on smartphones, tutorials on the use of beauty products, or pornographic images—all worlds featuring flesh that are situated in our contemporary era. The use of birth control pills, food supplements, edible herbs, and fake nails reflects the organic character of A/B8. Mimosa Échard combines industrial elements (Diet Coke, packaging, auto body parts, etc.) and organic elements (plants, eggshells, insects, etc.) until she achieves a stabilised texture that defies both strangeness and gravity. Fixed in wax like the mosquito trapped in a block of amber in Jurassic Park, they retain a vital force that is waiting to be released into the viewer's space.

Text written by Manon Prévost-Van Dooren as part of the partnership between the École du Louvre and Lafayette Anticipations – Fonds de dotation Famille Moulin.
Exhibition
IDEATH, Mimosa Echard
Galerie Samy Abraham, Paris (France)
from 19 Mar to 30 Apr 2016