Antiprisme (Karl)
Materials:
Brass, Steel, Galvanized steel
Dimensions:
Dimensions variables
Collection:
Lafayette anticipations - Fonds de dotation Famille Moulin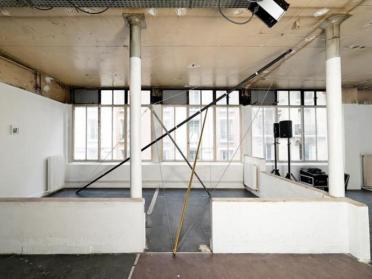 Produced in collaboration with Patrick Vindimian, this work by
Mimosa Echard
is inspired by her research into the tensegrity structures discovered by Karl Ioganson. This a priori inert sculpture is nevertheless based on mechanical forces. Three elements (brass, steel and galvanised steel) taken from the Foundation's building at 9 rue du Plâtre are put in tension to form a figure in a continuum of energy. The work appropriates the qualities of traditional sculpture defined by mass, as well as those of the mobile.
Exhibition
Venir Voir Venir
Lafayette Anticipations - Fondation d'entreprise Galeries Lafayette, Paris (France)
from 03 Jul to 06 Jul 2014