A Transparent Leaf Instead Of The Mouth
Daniel Steegmann Mangrané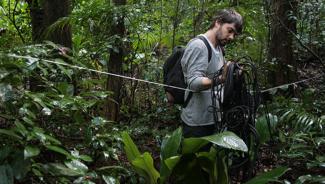 Born in 1977 at Barcelone (Espagne), lives and works in Rio de Janeiro (Brésil).
Medium:
Installation, vivarium (glass, metal), plants, water, stick insects and leaves
Dimensions:
250 x 500 x 500 cm
Steegmann Mangrané's taste for sensory experiments can be found again in A Transparent Leaf Instead Of The Mouth.
This vast vivarium that examines movement and retinal perception through the walls' transparency and stick insects' camouflage amongst the plants. The latter are evolving within an ecosystem made up of oak, beech, bramble and fern; life and living organism play a central role in the artist's work.
Daniel Steegmann Mangrané
draws inspiration from Alvar Aalto's "organic modernism", in which architecture combines shapes and functions to create spaces suited to the modern world and nature. The artwork's base, which holds the ecosystem together, was designed by the Fondation d'entreprise Galeries Lafayette. According to the artist, "Melding the interior and exterior of an exhibition is one of the first duties of art: the museum space can no longer be a space for the accumulation of artefacts, insulated and protected from the outside world, but must become a place where our relationship to objects and reality is reconfigured."