The show is over, (Wu Tsang with Tosh Basco)
Medium:
3-Channel Video Projection, 5.1 Surround Sound, 30 minutes
Courtesy:
Produced by Schauspielhaus, Zurich and co-commissioned by Lafayette Anticipations. Courtesy of the artist, Galerie Isabella Bortolozzi, Berlin and Cabinet, London.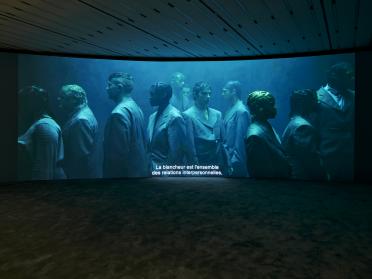 Scripted by parts of 'come on, get it!', a poem by Tsang's long-term collaborator, the poet Fred Moten, The show is over, creates a palimpsest of imagery, movement and sound.
In this film, the camera seamlessly journeys through individual choreographies and group movement and action, which range from musical improvisations to staged scatterings, through to ascensions onto an illusory Penrose triangle, an infinite staircase that both connects and separates the performers depending on one's viewpoint. Bodies move, congregate, multiply, disappear, and reappear in environments that are often obscured, until being washed by radiating beams of lights. Selected verses from Moten's poem, which muses upon indivisibility, fluidity, watery land and mud in their constitutive relationship to blackness, are spoken by the performers. 'The world is dry land, earth is water', an iterative theme positing a constructed 'world' of society and culture in relation to the earth, is repeated by many of the per- formers, as others move and drag consenting bodies across an indoor field of muddy water, between death and resurrection.