Say To Know 
Medium:
Installation. Plaster powder, toilet paper, cellophane, lipstick, acrylic paint, chalk, thread, tissue paper, ink
Dimensions:
16 x 520 x 720 cm
Courtesy:
Galerie Gisela Capitain, Cologne; Galleria Raffaella Cortese, Milan; Stuart Shave/Modern Art, London and David Zwirner, New York/London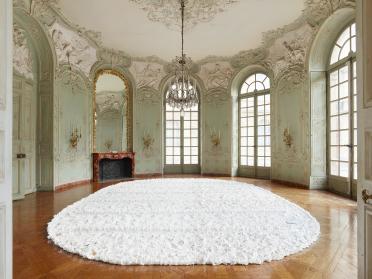 Lafayette Anticipations – Fonds de dotation Famille Moulin is a partner of the Festival d'Automne and supported the artist Karla Black.
Her work – found at the limits of painting, sculpture and installation – examines the subtleties of gravity, light, immateriality and various colours. The work on display at the Archives nationales is a response to the decorative dimension of the rococo salons of the Hôtel de Soubise and, particularly, of the prince's oval saloon.