Installation at École des Beaux-Arts
Courtesy:
Galerie Gisela Capitain, Cologne; Galleria Raffaella Cortese, Milan; Stuart Shave/Modern Art, London and David Zwirner, New York/London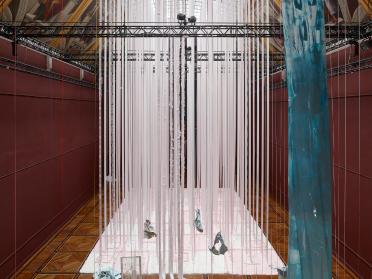 Lafayette Anticipations – Fonds de dotation Famille Moulin is a partner of the Festival d'Automne and supported the artist Karla Black.
Her work – found at the limits of painting, sculpture and installation – examines the subtleties of gravity, light, immateriality and various colours. Evanescent, Black's pieces are usually constructed in situ and thus challenge lines and shapes, sprawling on the ground or falling from the roof. Her artistic proposition at the Beaux-Arts de Paris echoes the collection of plaster casts on display in the building's chapel.