Safe Space
Medium:
Wood, neon, mirror, two-way mirror, acrylic
Dimensions:
143 x 211 x 46,5 cm
Courtesy:
Courtesy of the Passion Collection, Seoul.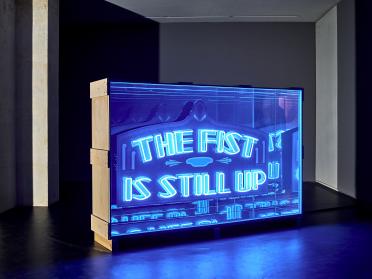 This neon sign relates to a body of work surrounding Tsang's first feature-length documentary Wildness (2012).
In the late 2000s, Tsang lived in Los Angeles and co-hosted the queer club Wildness. The bar where the club took place, called Silver Platter, was a hub for many transgender women, often refugees or immigrants from Mexico and Central America. In a storefront next to the bar, Tsang co-founded Imprenta, a base for art, activism, and a legal clinic. Here a neon sign declared: 'The Fist is still up'. The sign's rallying cry to maintain resistance is rendered as Safe Space, a neon in a packing crate. It acknowledges the problematics of bringing activism and 'safe space' discourses into the gallery.