PIE root "to see" (with Moved by the Motion)
Medium:
Hardened mud, blue pigment
Courtesy:
Commissioned by Lafayette Anticipations. Courtesy of the artist, Galerie Isabella Bortolozzi, Berlin and Cabinet, London.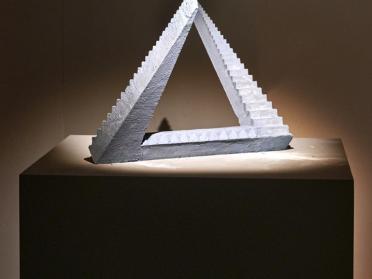 PIE root "to see" is a small replica of the staircase from the set of the film The show is over,.
The sculpture is based on the illusory mathematical Penrose triangle, which, depending on one's viewpoint, joins together as a perfect triangle or radically separates, simultaneously creating togetherness and impossible distance, connection and disconnection. The work is made of hardened mud mixed with blue pigment (materials from the film), which create an effect that summons both the past and futurity, like a crumbling, yet resilient ruin that comes to haunt and inform the future. PIE root "to see" creates a sense of perplexing illusion as perspective falls apart, while evoking the metaphors and entanglements that are central to the exhibition.