Conversation II
Medium:
6 pieces of sandstone
Dimensions:
47 x 80 x 5 cm
Collection:
Fonds de dotation Famille Moulin - Don de Ginette Moulin et Guillaume Houzé 2013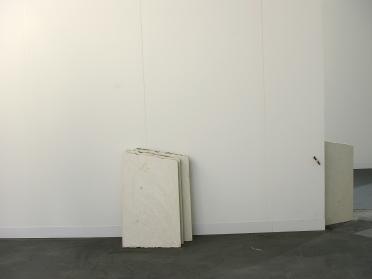 Katinka Bock's work questions a place and its specificities. Using its historical, social, architectural and geological structure, the artist adresses space as a superposition of layers of time and meaning that she would peel off, unfold or excavate.
The six pieces that make up
Conversation II
evoke the strata explored by
Katinka Bock
and invite, by the title, the viewer to talk with them. In an obvious precarious balance, the pieces reveal fault lines and cracks. Fragility and shifting come face the sandstone stability and solidity properties, prompting these six elements to be transformed over time and to evolve as aging casings. The artwork is never an end in the work of
Katinka Bock
but a way that enables the viewer to experience time and space, to sketch fictions of which he is the discreet character.