Yasmine Hugonnet - Ivana Müller
Monday 16 Sep 2019 from 4:30pm to 6:30pm, from 7pm to 9pm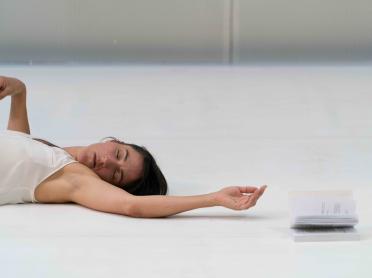 Feeling Alive by Yasmine Hugonnet + We Are Still Watching by Ivana Müller
Yasmine Hugonnet: Feeling Alive

If the voice is from the start a face (that one thinks of the voices that one sees on the radio), that would be a voice stared, which would leave the face to speak since other mouths, voice of the belly or eyes, voice of the hand or bones, vibrations on unheard-of cords, ventriloquism?

Concept, text, interpretation: Yasmine Hugonnet
Production: Arts Mouvementés / Co-production: Arsenic - Centre d'art scénique contemporain
Supports: Canton de Vaud, Loterie Romande, Ville de Lausanne, Pro Helvetia - Fondation suisse pour la culture, Fondation Nestlé pour l'Art, Migros Vaud
Running time: 40 minutes


Ivana Müller: We are still Watching

We Are Still Watching has the form of a reading rehearsal in which spectators encounter each other while reading a script together. During approximately an hour spent in company of each other, spectators create and « perform » a community, making decisions individually and collectively while simply reading a text that someone else has written for them.

Concept and text: Ivana Müller, in collaboration with Andrea Božić, David Weber-Krebs and Jonas Rutgeerts
Traduction/adaptation: Gilles Amalvi and Ivana Müller
Production I'M COMPANY / Performance developed as a part of the Encounters project (Frascati, Amsterdam 2012) and financially supported by Performing Arts Fund NL, Amsterdam Fund for the Arts and SNS Reaal Fonds
Running time: 45 minutes

Full Rate (available for the two performances): 12€
Reduced: 8€ (see conditions)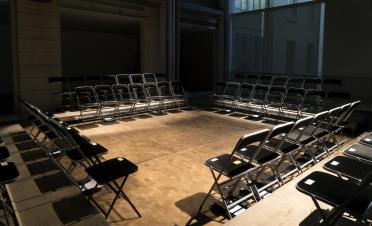 Yasmine Hugonnet is a dancer and choreographer. She is interested in the relationship between form, image and sensation, the germination of imaginary, the (de)-construction of the choreographic language, the process of incarnation and appropriation.
In recent years she has been deepening her work on the movement of attention, the idea of posture as a reservoir and, through her choreographic process, developing a practice of ventriloquism. She researches upon the notion of « Presences » in the Master Degree in Choreography called « Dance Unlimited » in Netherlands (2003-2005). In 2006, Laureate by European Pépinières for Young Artists, she went to Slovenia for an artist residency where she created « RE-PLAY », a trio that was invited at many international festivals. In 2009 she founded her own Company Arts Mouvementés in Lausanne and produced three solos. In 2015 and 2016, she is invited at the Venice Biennale. In 2017 Yasmine Hugonnet is awarded by Swiss Dance Award (dance creation) with Le Récital des postures. In November 2018, she created a new work for three dancers, CHRO NO LO GI CAL at Théâtre de Vidy Lausanne and at l'Atelier de Paris Carolyn Carlson. She created the in situ performance Extensions (2019) in the Parc Bellerive /Théâtre de Vidy with twelve young performers from the Lausanne region, followed by the group piece Seven Winters (2020), presented at the Festival d'Automne in Paris, and the solo La Peau de l'espace (2021). In 2019, she completed a three-month residency in Palermo as part of Palermo calling, a project set up by the Swiss Institute at Palazzo Butera. She is a winner of the Label + romand with her project Les Porte-Voix.
Ivana Müller is a Croatian choreographer, artist and author who is living in Paris and works internationally.
Through her choreographic and theatre work (performances, installations, text works, video-lectures, audio pieces, guided tours and web-works) she re-thinks the politics of spectacle and spectacular, re-visits the place of imaginary and imagination, questions the notion of "participation", investigates the idea of value and its representation, and keeps on getting inspired by the relationship between the performer and the spectator. Since 2002 she has created about fifteen plays and dances that have been performed in Europe, the United States and Asia. In 2007 she received the Charlotte Koehler Award for all of her work, as well as the Impulse Festival and Goethe Institute Award for her play While We Were Holding It Together. Her experimental, radical and formally innovative work expresses the idea of movement and the body, being at the heart of her artistic preoccupations. The theater remains her main place of practice and creation. Yet Ivana Müller's work has often been presented in the context of contemporary art, among others at the Venice Biennale 2015, the Garage Museum of Contemporary Art (Moscow), Hayward Gallery / Southbank Center.