× Cancel ×
Vulnerabilities: the body in question
Saturday 07 Nov 2020 from 4pm to 5:30pm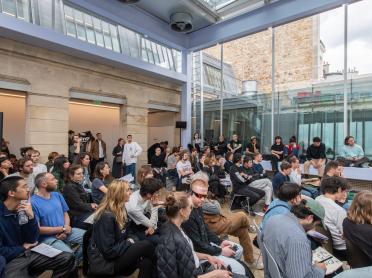 Following the government's announcements, the Foundation is closing its doors this Friday, October 30 and until further notice. All our upcoming events are cancelled. Our ticketing team will be contacting all ticket holders very soon.

Stay tuned via our social networks and newsletter to follow our future programming online.
Thank you for your understanding, see you soon!
A debate to discuss the ways in which vulnerable bodies resist and emancipate themselves from norms, particularly through artistic creation.

Debate presented by Raphaël Zagury-Orly, philosopher and founding member of the Rencontres Philosophiques de Monaco.
With the artists Cécile B. Evans, Christelle Oyiri, the philosopher Camille Froidevaux-Metterie and the historian Elvan Zabunyan.

In collaboration with the Rencontres Philosophiques de Monaco, as part of the Move Festival at the Centre Pompidou.
Raphael Zagury-Orly est un philosophe qui a enseigné dans de nombreuses universités et écoles d'art en Europe et en Israel. Il est nommé, en 2017, Chevalier à l'Ordre des Arts et des Lettres.
Il est actuellement Professeur invité de philosophie à l'Institut Catholique de Paris. De 2003 à 2014, il a été professeur à l'Ecole des Beaux-Arts – Bezalel  de Jérusalem (Israël), et de 2010 à 2014, y a dirigé le programme de Master of Fine Arts. Il a tenu divers postes de recherche et d'enseignement universitaires : à l'Ecole Doctorale de Sciences Po Paris (France) de 2017-2020 ; à l'Université de Rome – Sapienza (Italie) et au Karl Jaspers Zentrum de l'Université de Heidelberg (Allemagne) en 2015-2016 ; à la Staatliche Hochschule für Gestaltung – Karlsruhe (Allemagne) en 2014-2015 ; à l'Institut Cohn de l'Université de Tel-Aviv (Israël) de 2009 à 2013. En 2019, il est nommé Directeur de Programme au Collège International de Philosophie (Paris) et Chercheur Associé au Centre de Recherche sur les Arts et le Langage (CRAL – CNRS/EHESS).
Il fonde en 2015 avec Charlotte Casiraghi, Robert Maggiori et Joseph Cohen, les Rencontres Philosophiques de Monaco et en 2018, avec Joseph Cohen et Alain Fleischer, le Groupe de recherche « L'Humain qui vient » en association avec les institutions suivantes : Le Fresnoy Studio National (France), Penn State University (USA), University College Dublin (Irlande), Centre de Recherche sur les Arts et le Langage (CRAL – CNRS/EHESS).
Il a publié aux Editions Galilée, Questionner encore (2011) et co-dirigé, avec Joseph Cohen, Judéités. Questions pour Jacques Derrida (2003). Plus récemment, il a coordonné, en collaboration avec Joseph Cohen, Heidegger et « les juifs » pour La Règle du Jeu (Paris, Grasset) et publiera en février 2020 aux Editions Galilée, en collaboration avec Joseph Cohen, L'adversaire privilégié. 
Il travaille principalement sur l'idéalisme allemand, la phénoménologie, la théorie critique, la philosophie française contemporaine dans la lignée de la déconstruction derridienne et de l'éthique lévinassienne. Ses recherches sont aussi concentrées sur la théorie de l'art contemporain. 
Cécile B. Evans is an American-Belgian artist living and working in Saint-Denis.
Evans' work examines the value of emotion and its rebellion as it comes into contact with ideological, physical, and technological structures. They are currently working on a new performance commission for the MOVE festival at Centre Pompidou Paris (FR). Recent selected solo exhibitions include 49 Nord 6 Est - Frac Lorraine (FR), Museum Abteiberg (DE), Tramway (UK), Chateau Shatto (US), Museo Madre (IT), mumok Vienna (AT), Castello di Rivoli (IT), Galerie Emanuel Layr, Vienna (AT), Tate Liverpool (UK), Kunsthalle Aarhus (DK), M Museum Leuven (BE), De Hallen Haarlem (NL), and Serpentine Galleries (UK). Evans' work has been included amongst others at Whitechapel Gallery (UK), Haus der Kunst (DE), Mito Art Tower (JP), Renaissance Society Chicago (US), the 7th International Moscow Biennale (RU), the 4th Ural Industrial Biennial (RU), Galerie Kamel Mennour (FR), Louisiana Museum of Modern Art, Copenhagen (DK), the 9th Berlin Biennale (DE), the 20th Sydney Biennale (AUS), Fundació Joan Miró, Barcelona (ES), and Musée d'Art Moderne de Paris (FR). Evans' films have been screened in festivals such as the New York Film Festival and Rotterdam International. Public collections include The Museum of Modern Art, New York (US), The Rubell Family Collection, Miami (US), Whitney Museum of American Art (US), De Haallen (NL), Castello di Rivoli, Turin (IT), Louisiana Museum of Modern Art, Copenhagen (DK), and FRAC Auvergne (FR).
Christelle Oyiri aka Crystallmess is a DJ, producer but also a writer and mixed media artist keen on shedding light on past and present subcultures.
Her DJ style is eclectic yet cohesive, relying more on textures, sound continuum and narrative rather than genres while still rocking the dance floor. Tackling the subjects of club culture, colonial alienation and alternative temporalities, she created "Collective Amnesia" in 2018. Inspired by Cybernetic Club Research Unit's Kodwo Eshun work on Afrofuturism and music, this multidisciplinary performance mixing film and DJing, and traditional vocal performance of griology celebrates the forgotten history of logobi, an urban Afro-French dance from the mid-00s merging hardcore techno and coupé décalé.
Camille Froidevaux-Metterie is a feminist philosopher, professor of political science and equality officer at the University of Reims.
She dedicates her research to the changes in the feminine condition following the turning point of feminist emancipation (La révolution du féminin, Gallimard, 2015; Folio Essais, 2020). She approaches them from a phenomenological perspective that places the body at the center of reflection. After Le corps des femmes. La bataille de l'intime (2018), in which she reports on the "genital turn of feminism", she publishes Seins. En quête d'une libération (Anamosa, 2020).
Elvan Zabunyan est historienne d'art contemporain, critique d'art et professeure à l'université Rennes 2. Ses travaux croisent les problématiques raciales et féministes ainsi que l'histoire politique et culturelle des États-Unis depuis les années 1960.
La place du corps dans les arts visuels et la performace est l'un des fils rouges de ses recherches. Elle écrit actuellement un livre sur la mémoire de l'esclavage et les arts contemporains qui fait suite à son ouvrage pionnier sur la question Black is a color, une histoire de l'art africain américain(Dis Voir, 2004). Parmi ses publications récentes : Adrian Piper(MoMA, 2018), Ellen Gallagher (WIELS, Bruxelles, 2019), LaToya Ruby Frazier (Mudam, Luxembourg, 2019), Kehinde Wiley(Templon, Paris, 2019), « The Muted Sound of Speaking Silence » (Kunsttexte.de, Berlin, 2020), « Lorna Simpson : Hearing Images » (InSITE, San Diego, 2020).