Smerz
Thursday 30 Jun 2022 from 8:30pm to 10pm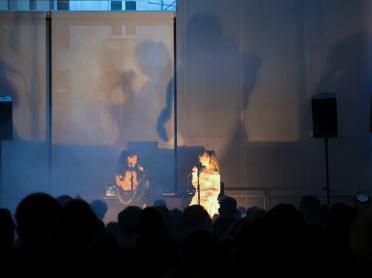 Smerz combines electronic and classical instruments with R&B vocals and deep bass to create a unique aural universe.

On the occasion of Lina Lapelytè's exhibition "The Mutes", the duo performs their album Believer, which deliberately mixes contradictory emotions, from sadness to happiness, anxiety or appeasement, and offers us a singular and oblique relationship to the world.

Inspired by the heavy bass of the club music of the 2000s, the emphasis is totally put on the performative and experimental dimensions of the music.
Smerz are the Norwegian duo of Henriette Motzfeldt and Catharina Stoltenberg.
Known for the 'carefully shaped, deconstructed pop' (Boomkat), Smerz seamlessly weave together techniques and sounds pulled from chamber and classical music, hip hop, R&B, and hard electronics, with the end product always resulting in something altogether uncanny. After a run of releases for London's XL Recordings in 2017, their full length debut 'Believer' was recently released, combining their love of Norwegian traditional music with the gauzy imagery of filmmaker Peter Greenaway and blurring the line between dream and reality. The album was put together in an attempt to cement the ideas Motzfeldt and Stoltenberg had been working through on their monthly NTS shows, where they regularly pull together musical forms with expressionistic ease, defying simplistic categorisation.
The lafayetteanticipations.com website uses cookies for audience measurement purposes.
By continuing your navigation on this site, you accept their use.