Samia Henni and Zineb Sedira
Wednesday 08 Jan 2020 from 6:30pm to 8pm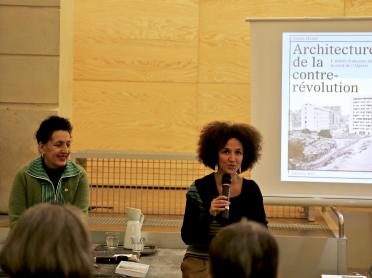 Meeting between Samia Henni, historian and theoretician of architecture, on the occasion of the French translation of her book "Architecture de la contre-révolution", and Zineb Sedira, artist whose exhibition "L'Espace d'un instant - A Brief Moment" is to be seen until 19 January at the Jeu de Paume.
This discussion aims to discuss common or resonant themes in the respective research of Samia Henni and Zineb Sedira, whether it be memory and history, particularly Algerian in colonial and postcolonial times, the work of archives, or the place of art and artists "facing History".

In her essay, Samia Henni analyses the urban planning and architectural policies implemented by the French colonial state during the long war of Algerian independence (1954-1962). This book provides a documented and accurate account of how the colonial regime planned and implemented tactical demolition programmes and developed new structures to facilitate close control of the Algerian population and the protection of the European communities in Algeria.

Zineb Sedira's work develops in diverse forms such as video, film, installation or photography. Her works reflect the artist's interest in oral histories, their collection, recording and transmission, but they also reveal her profound interest in postcolonial history and in the problems of global ecological destruction due to overproduction and the universal movement of people and goods.

Samia Henni's book is published by B42 (Paris).
Zineb Sedira's exhibition "L'Espace d'un instant - A Brief Moment" is presented at the Jeu de Paume (Paris) until 19 January 2020.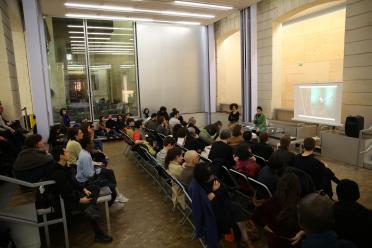 Samia Henni was born in Algiers, Algeria. Architect, historian and theoretician of architecture, she works at the crossroads of architecture, land use planning, and the study of colonial practices and military operations from the early 19th century to the present day.
She obtained her doctorate in the history and theory of architecture at the Swiss Federal Institute of Technology in Zurich (Eidgenössische Technische Hochschule Zürich, ETH Zurich) and was awarded the ETH Medal. Samia Henni is currently a professor and researcher in the history and theory of architecture and urban planning at the Department of Architecture at Cornell University in the United States.
Zineb Sedira est à l'origine d'aria (artist residency in algiers), une résidence d'artistes à Alger qui soutient le développement de la scène artistique contemporaine en Algérie à travers des échanges inter-culturels et des collaborations.
Née en 1963 à Paris, Zineb SEDIRA a etudié a Londres à Central St Martins puis Slade School of Art. Elle vit à Londres et travaille entre Alger, Paris et Londres. Son travail a été présenté au sein de nombreuses expositions personnelles, entre autres à la Photographer's Gallery (Londres, 2006), New Art Exchange (Nottingham, 2009), Pori Museum (Finlande, 2009), BildMuseets (Suède, 2010), Kunsthalle Nikolaj (Copenhague, 2010), Palais de Tokyo (Paris, 2010), MAC musée d'art contemporain (Marseille, 2010), Charles H. Scott Gallery, Vancouver et Blaffer Art Museum, Houston (2013), Sharjah Art Foundation (UAE) et Bierut Art Center, Liban (2018) et en 2019 au Jeu de Paume, Paris et l'IVAM, Valence, Espagne.