Post-club imaginaries
Sunday 28 May 2023 from 4:30pm to 5:30pm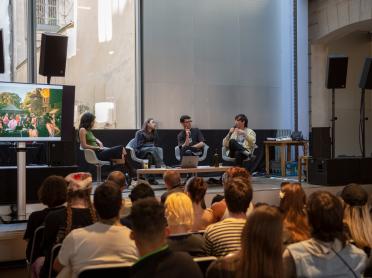 Journalist and researcher Victor Dermenghem explores post-club imaginaries and the poetry of the party.
After ten years of online electronic music organised around club-centric DIY ecosystems, how does post-dancefloor togetherness manifest itself?

At the turn of the 2020s, the sonic landscape is being renewed. Ethereal ambience tinged with pop, ancient folklores and Arcadian imaginings, emotional maximalism and candid sweetness are sprouting on the platforms... How do these online music nexuses and their networks articulate in the 'real' world? What spaces - physical and imaginary - do these musics inhabit? What links can be made between these aesthetic renewals, these practices and these elsewhere?
Victor Dermenghem is a sociologist, music journalist and independent researcher.
His work focuses on the history of club culture, hip hop and internet music. He regularly collaborates with specialised media such as Trax, Audimat or Rinse France.
Thelma Cappello is a sound artist who graduated from the Beaux-Arts in Paris in 2020.
She works with voice, field recording, performance and installation. She collaborates with other artists and writers, composing music for radio pieces that have been broadcast on Cashmere and Montez Press Radio. Her musical work is characterised by the use of her voice as a synthesiser. She works with the constraint of creating sound material only with her voice recordings virtually shaped by computer. Using different effects, she adopts multiple identities, becoming a choir or a cello.
Avran Thépault has been helping to organise the Sachô festival since 2019.
Initially in charge of audiovisual programming, since 2021 he has also been helping to draw up the festival's musical programme as well as other various aspects of the organisation of the event.
Sachô is a festival that works with local and institutional players to welcome a wide range of curious audiences to the Combas farm estate in the Haute-Vienne every summer. The festival gives pride of place to soft, experimental, traditional, electronic and acoustic music.
Avran is also developing a musical project, somewhere between internet pop and folk, under the alias Lagrima.
Philippe Janer is a DJ and music curator.
Active in both community and institutional circles, he has been opening squats for creative and living spaces for the past 5 years. Trained as an architect, he injects his research into his community initiatives, both in the design of living spaces and the scenography for performances. Alongside his work as a programmer, he also devotes himself to developing sound amplification and spatialization equipment.