Organ listening session
Tuesday 07 Dec 2021 from 7:30pm to 9pm
At the Église du Saint-Esprit - 186 avenue Daumesnil Paris 12e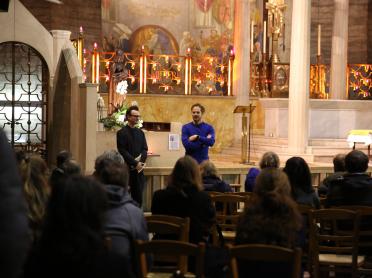 Through discussions and listening to several organ pieces performed by Hampus Lindwall, Boris Charmatz shares his inspirations, his desires and his musical research around his future creation Liberté Cathédrale.
Each year, the Foundation invites an artist in residence and devises with him/her a series of public meetings allowing the participants, as well as a secondary school class, to contribute to the research, creation and production process of a future work.

For the 2021-2022 season, Boris Charmatz is the artist in residence, with [terrain] - an experimental project without fixed walls, inserted into the city and public space through invitations around the world. Boris Charmatz will work throughout 2022 on the conception of his next creation, currently entitled Liberté Cathédrale.

Boris Charmatz and the organist Hampus Lindwall invite the public to meet in the Eglise du Saint-Esprit, a singular building with Byzantine influences and built entirely of reinforced concrete.
Boris Charmatz is a dancer, choreographer and artistic director.
Dancer, choreographer and artistic director of [terrain], Boris Charmatz subjects dance to formal constraints that redefine the field of its possibilities. From Aatt enen tionon (1996) to SOMNOLE (2021), he has created a series of landmark pieces in parallel with his activities as a performer and improviser (notably with Médéric Collignon, Anne Teresa De Keersmaeker and Tino Sehgal).
From 2009 to 2018, Boris Charmatz directs the Musée de la danse, Centre chorégraphique national de Rennes et de Bretagne.
In September 2022, he will take over the direction of the Tanztheater Wuppertal Pina Bausch and will develop a new Franco-German project with [terrain].
Boris Charmatz is also an artist accompanied by Charleroi danse (Belgium) for three years (2018-2021).from 2018 to 2022.
Hampus Lindwall est un artiste musical et compositeur, actif dans plusieurs domaines comme la musique contemporaine et la musique expérimentale et électronique. 
Il est organiste titulaire dans l'église du Saint-Esprit à Paris et professeur d'improvisation à l'Institut Supérieur de Musique et Pédagogie Royal (IMEP) à Namur. 
Comme organiste Hampus Lindwall a donné des concerts à travers l'Europe, les U.S., Canada et en Asie. Il a sorti de nombreux disques comme soliste et en collaboration avec d'autres artistes.