Saturday Party (5-12 years)
Saturday 09 Apr 2022 from 3pm to 6pm
Parents and children must have their own ticket.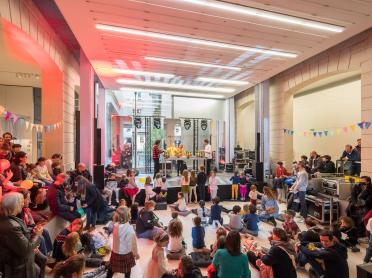 The Closer Music festival is opening up to little ears, with a real tropical boom and a color hunt!
→ The colour hunt from 3pm to 6pm (ongoing)

Go on an expedition to discover Xinyi Cheng's exhibition!
The characters that inhabit the artist's paintings whisper a few riddles that you will have to solve to unlock their secrets... Mediators will guide you on your journey, and challenge you!

→ Mini rave party from 4pm to 5:30pm

Come to the Foundation to party to the sounds of an interactive and playful DJ set!
A pineapple concert? That's the concept of the trio 16 pineapples, who promise to make children and adults dance during a unique musical and visual performance.
Thanks to new technologies, the three musicians activate their sixteen pineapples equipped with sensors that propagate the chords of an amazing and dancing electro-pop music.

Snacks, balloons, music... Everything is there to make Closer Music a child's playground!

Please reserve one ticket per participating child (5-12 years) and one ticket per accompanying adult. A child must be accompanied by an adult.
16 Pineapples gathered around the same passion: play on pineapples.
The group redefines the concepts and limits of live music by incorporating technologies that make interactive and thus playable any object.
Satellite of the Playtronica studio, it redefines music by touch and develop a live concert exclusively composed of pineapples.