× Cancel ×
Mini Rave Party
Saturday 21 Nov 2020 from 2pm to 4pm
Sunday 22 Nov 2020 from 2pm to 4pm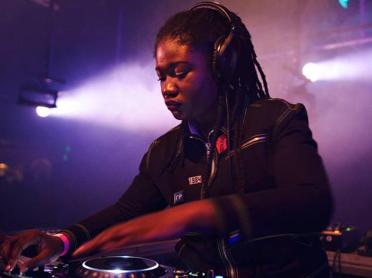 Following the government's announcements, the Foundation is closing its doors this Friday, October 30 and until further notice. All our upcoming events are cancelled. Our ticketing team will be contacting all ticket holders very soon.

Stay tuned via our social networks and newsletter to follow our future programming online.
Thank you for your understanding, see you soon!
A practical introductory workshop to electronic music in a festive and playful atmosphere with DJs and producers with a strong background, Crystallmess and Sentimental Rave.
This workshop is designed for children from 7 to 12 years old.
Christelle Oyiri aka Crystallmess is a DJ, producer but also a writer and mixed media artist keen on shedding light on past and present subcultures.
Her DJ style is eclectic yet cohesive, relying more on textures, sound continuum and narrative rather than genres while still rocking the dance floor. Tackling the subjects of club culture, colonial alienation and alternative temporalities, she created "Collective Amnesia" in 2018. Inspired by Cybernetic Club Research Unit's Kodwo Eshun work on Afrofuturism and music, this multidisciplinary performance mixing film and DJing, and traditional vocal performance of griology celebrates the forgotten history of logobi, an urban Afro-French dance from the mid-00s merging hardcore techno and coupé décalé.
Sentimental Rave est DJ, productrice et photographe autodidacte basée à Saint-Denis.
Son inspiration vient de la rave music, du hardcore, de la musique expérimentale et de la techno. Sa musique oscille entre la violence de sa rythmique et sa propre sensibilité. On peut entendre dans ses morceaux les errances solitaires et nocturnes de la jeunesse d'aujourd'hui, reflet de milliers d'oiseaux de nuit qui se rassemblent dans les entrepôts de banlieue des villes européennes, comme à l'âge d'or des premières raves.