Mini DJ (6-10 years)
Saturday 09 Apr 2022 from 2pm to 3:30pm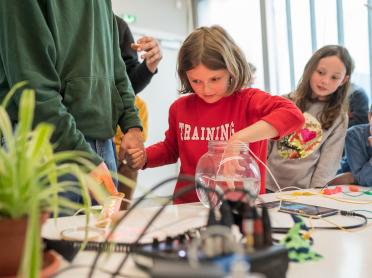 In a festive atmosphere, families will be introduced to the practice of electronic music with the colourful pop DJ and producer OMMA and her sidekick Vincent de Malherbe.
With their magical modules connected to unusual elements, anything can become a musical instrument: jelly, plants and even a glass of water! An offbeat and poetic way to learn to play music and compose your own piece.
Originally from Moscow, Omma is now based in Paris.
Omma has spent the last ten years getting out of music, performing, recording and DJing while working on her "Playtronica" project. Omma unfolds a universe between pop and experimentation where she ironically sings her daily life in Russian. For her, there is no sadness and melancholy in dark, snowy days... if you are in harmony with the 5 elements of nature! She has just released her new LP on the Parisian label Antinote.
The lafayetteanticipations.com website uses cookies for audience measurement purposes.
By continuing your navigation on this site, you accept their use.