'Les Traversées du Marais': Tours & Workshop
Friday 07 Sep 2018 from 4pm to 8pm
Sunday 09 Sep 2018 from 1pm to 6pm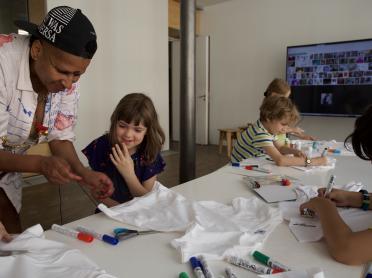 For Les Traversées du Marais festival, Lafayette Anticipations will offer several guided tours of the current exhibition, as well as a workshop for children.
Programme:
Join us on
Friday, September 7
from 6 to 10 PM for
LA night
. Access to the exhibition spaces as well as guided tours is free of charge for all!
- 6 PM:
Family pLAy!
- 7 PM: Guided tour with a cultural mediator.
Kids' day on
Sunday, September 9
:
- 3 PM : Children's workshop "Ambiance J'avoue Ziva" by
Vava Dudu
. "Ambiance J'avoue Ziva" is a t-shirt customization workshop conceived by Vava Dudu for Lafayette Anticipations.
- 6 PM:
Family pLAy!
Practical Information
Access to the Lafayette Anticipations' visits and workshop for Les Traversées du Marais is free of charge, within available spots.
Reservations to the workshop: mediation[a]lafayetteanticipations[.]com
Vava Dudu Lover of the avant-garde! Multi-disciplinary designer, Fashion designer, illustrator, A fan of lines and colour I also make furniture And customized guitars With the Transpiration Collective I sing in a band called La Chatte… Miaow! Electro zouk punk new wave A new album is out this April with the the Tsunami Addiction Label. Check it out!
My motto in life? Never get bored! Designer of jewellery, clothing, Fancy and fun, The avant-garde is my philosophy, DIY Punk Chic and elegant Couture mixed with street wear. I love FLASHY colours But have my DARK phases too Perfect total black look I'm obsessed with thigh-high boots Lycra suits Onesies, hoodies and fur Prints My go-to beauty product? Nivea, I never go out without eye liner, or sometimes Black and blue lip gloss. I've been shaving my hair and eyebrows for years but at the moment, I like to sculpt them 80s' B.BOY style. Or Marge Simpson. My favourite stores? International flea markets and EBAY for boots, MON AMOUR boutique in Paris on the Rue Charlot is a treasure trove of great Vintage and avant-garde finds. My designs can be found at Kokon To Zai Paris And Culotte Boutique…
The lafayetteanticipations.com website uses cookies for audience measurement purposes.
By continuing your navigation on this site, you accept their use.