Le Cinéma Club
Saturday 18 May 2019 from 12pm to 6pm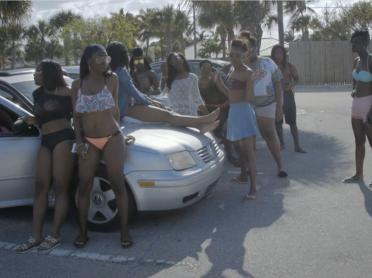 Le Cinéma Club is a curated streaming platform presenting one film every week for free.
The site celebrates new talents, rare gems and discoveries, offering a dynamic online cinema space for diverse and original voices. The hand-picked selections vary in genre and length, while giving special attention to short formats.
For Kaleidoscope Manifesto festival, Le Cinéma Club has curated a program of screenings exploring a diverse range of collaborations in film. Love, respect, family and circumstance have brought these individual filmmakers together. Their shared works reflect mutual affection and varied experience. These are films that expand the boundaries of an inherently collaborative medium, constantly open to new configurations and combinations of authorship and inspiration.

Friday, May 17, continual screenings from 2pm to 8pm

Program :
The Bride of Frankenstein, 2015 (19mn) by Agostina Gálvez and Francisco Lezama
The Giant, 2012 (21mn) by David Raboy and Eric Yue
Beach Week, 2015 (18mn) by David Raboy and Eric Yue
The Game of Life, 2015 (16mn) by Baptist Penetticobra and Naia Lassus
A History of Mutual Respect, 2010 (23mn) by Gabriel Abrantes and Daniel Schmidt
Skip Day, 2018 (16mn) by Patrick Bresnan and Ivete Lucas
The Rabbit Hunt, 2017 (16mn) by Patrick Bresnan and Ivete Lucas
Contemporary Color, 2016 (1h37) by Bill Ross IV and Turner Ross
Les Frères Wanted: la barbichette, 2002 (7mn) by Kourtrajmé (Kim Chapiron)
Easy Pizza Riderz, 2002 (9mn) by Kourtrajmé (Romain Gavras)
John's Gone, 2010 (22mn) by Josh and Benny Safdie
The Black Balloon, 2012 (21mn) by Josh and Benny Safdie
The Trophy Hunter, 2012 (4mn) by Josh and Benny Safdie
Vever (for Barbara), 2018 (12mn) by Deborah Stratman
Collective:Unconscious, 2016 (1h17) by Frances Bodomo, Lauren Wolkstein, Lily Baldwin, Josephine Decker and Daniel Patrick Carbone
Founded by Marie-Louise Khondji in 2015, Le Cinéma Club acts as a global filmmaking rendez-vous - an online destination that film lovers can revisit weekly to find something new, surprising, and inspiring.
Rooted in both New York and Paris, the site is deeply engaged with the international film landscape and community as a whole. The platform will relaunch in June, continuing to pursue the most exciting and rewarding currents in world cinema and expanding its editorial mission.
The lafayetteanticipations.com website uses cookies for audience measurement purposes.
By continuing your navigation on this site, you accept their use.