Katia Kameli, My anthology of raï
Saturday 01 Feb 2020 from 4pm to 5pm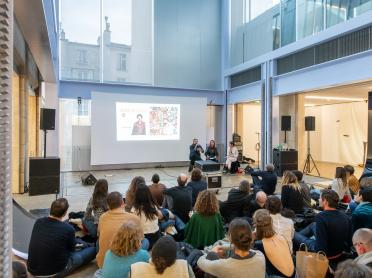 My anthology of raï is a proposal by Katia Kameli to immerse the audience in a sensory encounter with Raï music - popular music meaning "opinion, freedom" in Arabic - using listening as an open process to navigate through the history of the genre and explore its challenging contribution to the history of Algeria.
Reflecting Algerian culture through its musical and textual creolity, Raï appears as a substitute for the absence of exchanges between men, women and generations, making it possible to envisage the social and cultural changes that Algeria is undergoing today. For this session, she invites Sarah el Hamed and Hani Rais to join her in rewinding the iconic tapes.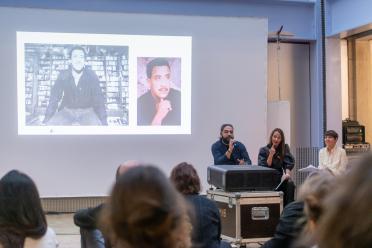 The practice of Katia Kameli, a Franco-Algerian artist and director, is based on a research approach: the historical and cultural fact feeds the plural forms of her plastic and poetic imagination.
She considers herself a "translator". Translation is not a simple passage between two cultures or a simple act of transmission, but also functions as an extension of meaning and form. The act of translation deconstructs the binary and sometimes hierarchical relationship between the notion of original and copy. A rewriting of the stories appears in his work. It highlights a global history, made up of porous borders and reciprocal influences in order to open a reflexive and generating a critical view of the world. Katia Kameli is a graduate of the École Nationale des Beaux-Arts de Bourges and has followed the post-graduate course Collège-Invisible at the École Supérieure d'Arts de Marseille. His work has found visibility and recognition on the international art and film scene.