How would you anticipate? #2
Thursday 27 Sep 2018 from 5pm to 7pm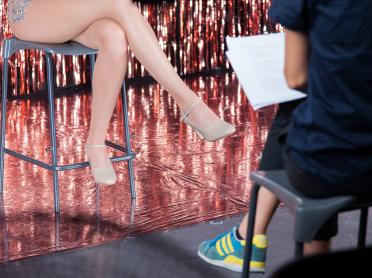 Lafayette Anticipations resumes the cycle 'How would you anticipate?' with artists Revital Cohen and Tuur Van Balen.

Every month, Lafayette Anticipations invites artists or cultural practitioners to develop a formal, performative, discursive, and/or collaborative proposal, to be explored over the course of an evening. 'How would you anticipate?' is the question asked of guests, chosen for the relationship their practice enjoys with speculation, imagination, research and the quest for alternatives.
Somewhere between a panel, a performance and a betting shop, this second event aims to open and activate the research towards Revital Cohen and Tuur Van Balen's new body of work. Exploring gambling as the contemporary condition, the artists suggest it has become the dominant relationship to the future; possibly the only one left after a stable linear 'future' has dissolved.

Looking into optimised animal bodies, corporate choreographies, misconceived patterns and the scents, structures and soundscapes embodying casinos' strategies of stopping time and constructing alternate realities, the artists consider gambling as the sign of our times; a state of mind, prominent gesture, practice and ideology in both contemporary politics and art.

Using installation, performance and text they aim to open and reflect on this general sentiment of dice rolling, the thrill of instability and the unfounded belief in an impending win.

Featuring economist Lucas Chancel, a racehorse trainer, a marine oracle and more, the audience will be invited to place their bets of the evening's unfolding.
Revital Cohen & Tuur Van Balen are London based artists working across objects, installation and film exploring processes of production as cultural, social and political practices.
Recent exhibitions include the Renaissance Society in Chicago, Para Site Hong Kong, The 7th Moscow Biennale, Thyssen-Bornemisza Art Contemporary Vienna, Fotomuseum Winterthur, HKW in Berlin and the Museum of Contemporary Art Tokyo. Recent screenings and talks include the ICA in London, TENT Rotterdam and Congo International Film Festival in Goma. Their work is part of the permanent collections of the Museum of Modern Art, New York and M+ museum in Hong Kong.