Helvet Underground, Clédat & Petitpierre
Friday 16 Sep 2022 from 6:15pm to 7pm
Saturday 17 Sep 2022 from 3pm to 3:45pm, from 5:45pm to 6:30pm
The installation can be seen throughout the festival, independently of the performance times.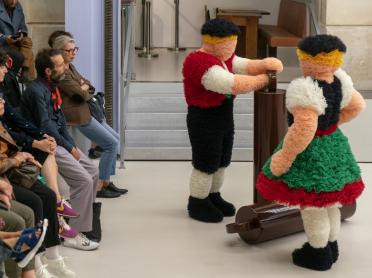 Like other works by Clédat & Petitpierre, Helvet Underground is a sculpture to be activated.
Exhibited in the Agora of Lafayette Anticipations for the duration of the festival, it will be activated three times for 40 minutes, allowing spectators, both young and old, to follow the subtle and mischievous peregrinations of the two protagonists.

"Two figures or folk dolls escape at a fixed time from a huge clock with a typical Black Forest decoration. The two bodies wrapped in tulle, coordinated with each other, take small steps in a deep silence, beat their wrists to a rhythm that we do not perceive, nod vaguely, sit down, lie down, move their feet again before returning to their milk chocolate coloured chalet." Jean-Yves Jouannais

Conception, direction and interpretation: Yvan Clédat and Coco Petitpierre
Production: TWENTYTWENTY, lebeau et associés, Galerie ACDC - Bordeaux
Courtesy C&P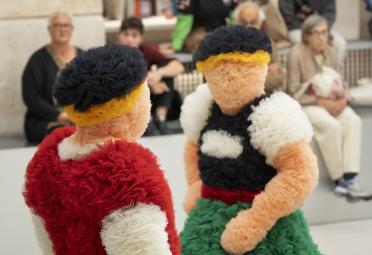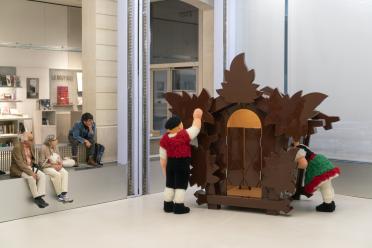 Yvan Clédat and Coco Petitpierre are a couple of artists that met in 1986.
Sculptors, performers and directors, they question the exhibition space and that of the stage through a varied and amusing work in which the bodies of the two artists are regularly put into play. Their works are presented in art centres, museums, festivals and theatres in France and abroad.