The Gentrification of the Mind
Sunday 14 Oct 2018 from 2pm to 4pm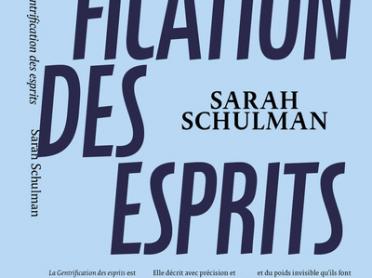 Sarah Schulman in conversation with Elisabeth Lebovici

In this gripping memoir of the AIDS years (1981–1996), Sarah Schulman recalls how much of the rebellious queer culture, cheap rents, and a vibrant downtown arts movement vanished almost overnight to be replaced by gay conservative spokespeople and mainstream consumerism.
Schulman takes us back to her Lower East Side and brings it to life, filling these pages with vivid memories of her avant-garde queer friends and dramatically recreating the early years of the AIDS crisis as experienced by a political insider. Interweaving personal reminiscence with cogent analysis, Schulman details her experience as a witness to the loss of a generation's imagination and the consequences of that loss.

The Gentrification of the Mind is published in the Culture collection directed by artist Mathieu Abonnenc and dedicated to critical anthropology and art history.

In the same collection:
Art Queer by Renate Lorenz, published in January 2018;
My Cocaine Museum by Michael Taussig, published November 2018;
Shamanism, Colonialism and the Wild Man by Michael Taussig, forthcoming;
For an Aesthetic of Emancipation by Isabelle Alfonsi, forthcoming.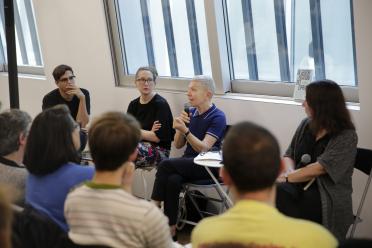 Elisabeth Lebovici completed a PhD in Aesthetics in 1983. She has been writing art criticism since 1985, and was an arts and culture editor for
Libération
, from 1991 to 2006. Since 2006, she regularly writes her
critical blog: http://le-beau-vice.blogspot.com/
An AIDS activist, Elisabeth was the inaugural president of the Paris LGBT film festival, and is currently a founding membre of the LIG « Lesbians of General Interest » fund.
She has been involved since the 1990's into writing on feminism, activism, queer politics and contemporary arts. In 1998, she edited
L'Intime
(Paris, ensb-a). She is the author, with Catherine Gonnard, of a history of women artists in France between 1880 and nowadays:
Femmes/artistes, Artistes/femmes, Paris de 1880 à nos jours
(Paris, Hazan, 2007). With Catherine Gonnard, she is currently involved in a research on lesbian culture in the francophone media in the 1950's - 1960's. Her latest book
What AIDS Has Done To Me. Art and Activism at the End of the XXth C
, (JRP Ringier, « lectures Maison Rouge » 2017) has received the Prix Pierre Daix 2017 in art history. Elisabeth is in charge (with Patricia Falguières and Natasa Petresin-Bachelez) of a weekly seminar at the Ecole des Hautes Etudes en Sciences Sociales (EHESS) in Paris titled:
Something You Should Know: Artists and Producers
.
http://sysk-ehess.tumblr.com/
. Elisabeth is a member of « Travelling Féministe », around the archives of the Centre Audiovisuel Simone de Beauvoir.
Sarah Schulman is a novelist, playwright and human rights and LGBT activist.
She is Distinguished Professor of English at CUNY. She was a member of ACT UP New York and in 2001 founded the 'ACT UP Oral History Project', which aims to collect and archive testimonials from people who played an active role in the fight against AIDS in the USA in the 1980s and '90s. She is involved in the solidarity movement with the Palestinian people and a member of the activist organisation Jewish Voice for Peace. She is the author of nineteen books published in the USA. Two of her novels, After Delores (Éditions Inculte) and Rat Bohemia (Éditions H&O), have been translated into French.