Dorothée Munyaneza, a capella
Wednesday 14 Sep 2022 from 7pm to 7:40pm
Thursday 15 Sep 2022 from 7pm to 7:40pm
Evening pass for two shows: €16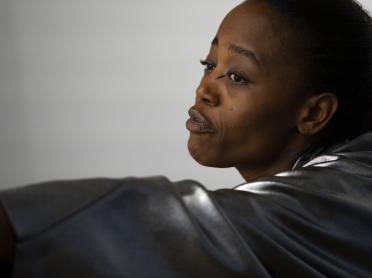 Alone on stage and a capella, Dorothée Munyaneza fills the space with the songs that animate and constitute her, that give voice and body to those who are heard too little.
She whispers indispensable stories, brings up buried memories, and displays the songs' extraordinary collective and shareable driving power. From traditional Rwandan songs as well as contemporary repertoires, performed in several languages, she weaves with strength and delicacy the precious fabric that links the absent and the present, the past and the future.

Conception and interpretation: Dorothée Munyaneza
Production: Compagnie Kadidi and Mascaret Production
Dorothée Munyaneza is a Rwandan and British singer, writer and choreographer. She studied music at the Jonas Foundation in London and social sciences in Canterbury, before moving to France.
She has collaborated with François Verret, Alain Buffard, Alain Mahé, Stéphanie Coudert, Ko Murobushi, Rachid Ouramdane, Maud Le Pladec, Jean-François Pauvros, Maya Mihindou, Ben Lamar Gay and Radouan Mriziga. In 2014, she created her first work, Samedi Détente, followed by Unwanted in 2017 and Mailles in 2020. Her work starts from reality to capture memory and bodies, both individual and collective, to speak out and to carry the voices of those who are silenced, to denounce the genocide of the Tutsis in Rwanda, violence against women, racial and colonialist domination, to make the silences heard and to show the scars of History. In 2020, she translated from English Hopelessly Devoted by Kae Tempest, published under the title Les inconditionnelles by L'Arche Éditeur. Associate artist at the Théâtre de la Ville (Paris) from 2018 to 2021, Dorothée Munyaneza is now Associate Artist at the Théâtre national de Chaillot and in residence at the Fondation Camargo from 2022 to 2024.