Dali Muru & The Polyphonic Swarm
Saturday 27 May 2023 from 7:45pm to 8:30pm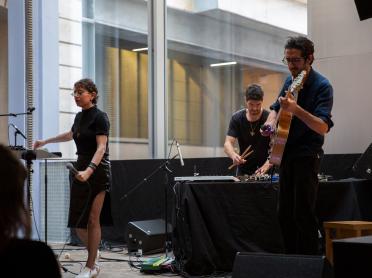 Drawing inspiration from poetry and narrative, Dali Muru & The Polyphonic Swarm is driven by the charm of the spoken word, a minimal percussive chorus, dreamy textures and deep melodic synths.

Live, the duo of writer, filmmaker and musician Dalia Neis and producer Enir Da create a lyrical and cinematic patchwork.

Their debut album on STROOM.TV mixes ambient, trip-hop and electronic music, accompanied by poems by Dali Muru.