Culture Générale Générale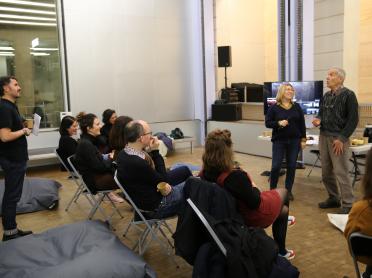 A bimonthly workshop of observations, discussions, cut-outs, harlequinades, models, inflation, accessories, enunciations, drawings, writing, projections, television vocal arts for a collaborative final piece proposed by Charlotte Khouri
The objective of these workshops is to co-construct a fake television show on general culture with the participants, thanks to the intervention of various guests whose work Charlotte Khouri likes: guests with the qualities of artists, specialists, authors, draftsmen, performers, directors and singers.
This collaborative piece, which may be a simulacrum of a television show shooting, is punctuated by chronicles that will have been fomented throughout these 15 sequences. The idea was to update the television format designed by "L'Assiette anglaise". Broadcast from 1987 to 1989 on Antenne 2, this program was hosted by Bernard Rapp surrounded by a group of friends. British in appearance, it offered an offbeat and critical analysis of current events, companies, press coverage, ecology, sports, punctuated by comical outdoor reports.

Thursday, November 7
'If the general culture had shown me.'
Presentation and discussion session on the notion of general culture, by Charlotte Khouri with Denis Ramond (Doctor of Political Science) and Charles Coustille (Doctor of Literary Science).

Thursday, November 28
'L'Assiette anglaise, a disparate cultural show from the 1980s'
Broadcasting of extracts from an English Plate and meeting.

Thursday, December 19
Due to the national strike movement, the workshop is canceled.

Thursday, January 16
'Art, television, and others.'
Meeting with Clémence de Montgolfier (artist-researcher) on her thesis "Art on French Television from 1960 to 2013" and orientation discussion following the first three workshops.

Thursday, February 6
'If contemporary General Culture was a television chronicle, spoken'
Writing workshop with Thibaud Croisy (author, playwright).

Thursday, February 20
'If General Culture were a TV chat room setting, which would it be?'
Model workshop on set design with Clara Stengel (artist).

Thursday, March 5
'Which choir for which songs for which general culture?'
Workshop for writing short but effective songs with Jeanne Moynot (artist).

Thursday, March 19 Cancelled
'Modulate the voice to better tint the content: what the written word cannot, the voice does.'
Workshop with Manu Joucla (actor).

Thursday, April 2 Cancelled
'Which icon of icons for the kingdom of general culture?'
Workshop to create a totem character with Louise Siffert (artist).

Thursday, April 23rd Cancelled
'If general culture were told to me, back to the covers of magazines and non-specialized books that general culture can still create'
Drawing workshop for the creation of a book of images/forms/drawings with Maxime Testu (artist).

Thursday, May 7 Cancelled
'The general culture is spoken'
Workshop with Charlotte Khouri
Putting into practice the elements created, the decor and the texts.
Charlotte Khouri is an artist who designs sets, props and texts to perform on camera or live.
Her performance work is rooted in a practice of decorative painting and the design of stage props. These primary practices allow her to activate a ghostly link between forms and subjects through voice and text, making them at times witnesses, at times supports for a scenic complicity with the spectator or with a sometimes personified object.
By displacing images, figures and existing architectures in relation to her own scale - her body - she reappropriates a dominant cultural and historical continuum, through stagings that tend towards humour.
By replaying forms of media discourse, she seeks to deflect these shackles into absurdist poetry.
Trained at the Ecole supérieure des beaux-arts de Marseille, then at the Haute Ecole d'art et de design de Genève, she participated in the Salon de Montrouge 2019.
At the invitation of Anne Le Troter, they wrote and directed a dozen pieces of residential theatre that were hosted by the Saint-Nazaire Art Centre - le Grand Café, by the Frac Champagne Ardenne and by the Nanterre-Amandiers theatre in the Poltergeist programme.
Between 2019 and 2020, she was resident at La Galerie, Centre d'art contemporain de Noisy-le-sec, where her first solo exhibition Dauphins, Dauphines was held. During the same season, she led workshops at the Lafayette Anticipations Foundation, on the themes of general culture and television.
She will soon be in residence for the Landerneau Biennial 2022.
The lafayetteanticipations.com website uses cookies for audience measurement purposes.
By continuing your navigation on this site, you accept their use.