CLOSER MUSIC - Sunday, February 2nd
Sunday 02 Feb 2020 from 4:30pm to 8:30pm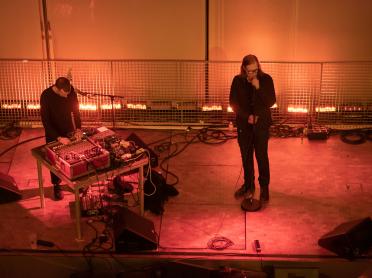 Not Waving & Dark Mark + Alessandro Cortini + Jean-Luc + Anadol
Not Waving & Dark Mark
On paper, nothing predestined Mark Lanegan, a cult figure on the American rock scene and one of the most beautiful grunge voices, to meet Not Waving, a project by Italian techno producer Alessio Natalizia. And yet listening to "drownwelling", the duo's first album, the collaboration seems extremely natural. Lanegan's deep and inhabited voice wanders in dark climates with Natalizia's refined electronic arrangements, leaving aside her club intentions to explore ambient music with industrial hints. After a concert event at the Atonal Festival in Berlin, Dark Mark & Not Waving will offer Closer Music the French premiere of this exciting and cross-cutting new project.

Alessandro Cortini
Known to the general public for having been Nine Inch Nails' keyboard, Alessandro Cortini is a soloist developing one of the most exciting works in contemporary electronic music. Now signed on the cult label Mute, the Italian has reached new heights with his latest album, the well-named "Massimo Volume", released last September, which gives the audience a powerful and cinematographic synth wave and stands out with class and personality from the current 80's revival.

Jean-Luc
Formed spontaneously in an unbridled energy typical of Berlin's cosmopolitan underground, Jean-Luc is a quartet that produces hybrid music. Between poetry, theatrical new wave and dada rock art, the band's compositions remind us of John Maus, Lizzy Mercier Descloux or Klaus Nomi. Live, Jean-Luc transforms the clubs that welcome him into punk, childish and mocking cabaret.

Anadol
Behind Anadol is the Turkish sound artist Gözen Atila, now based in Berlin. Initially, Anadol was a collective project of improvisations on the traditional Middle Eastern repertoire that has evolved over time. Uzun Havalar, released last spring, is a strange album made up of cinematographic and funny collages that evolve between pop art and vintage electronic music (we'll think of the work of the forgotten pioneer Bruce Haack or Mort Garson). A psychedelic music from which arise contemplative moments of beauty as ephemeral as hypnotising.
Mark Lanegan is a cult figure on the American rock scene. After playing with The Screaming Trees, grunge pioneer with Nirvana and Pearl Jam, he collaborated with many artists (Queens of The Stone Age, Isobell Campbell or Greg Dulli). Since the early 1990s, he has released solo albums where his characteristic hoarse voice has worked wonders. In 2019, he recorded a new, more electronic project under the alias Dark Mark with Italian techno producer Not Waving, which oscillated between ambient and industrial music.
Alessandro Cortini was born in Bologna, Italy. His work is influenced by 80's electronic music, Indus, and alternative rock. In the early 2010's he became Nine Inch Nails' keyboard and since 2013 he has been releasing solo albums where he demonstrates his talent for dark synthetic and cinematographic music. His latest album VOLUME MASSIMO was released in September 2019 on the label Mute (Depeche Mode, New Order, Swans...).
Formed in Berlin, Jean-Luc is a quartet who brings together musicians from different parts of Europe. Luc Bersier, Low Bat, Leonard Prochazka and Ariel Garcia play a theatrical music bathed in punk, new wave, minimal wave and French chanson influences. They defend in 2020 a first hybrid EP released on the Knekelhuis label.