CLOSER MUSIC - Saturday, February 1
Saturday 01 Feb 2020 from 5:30pm to 9:30pm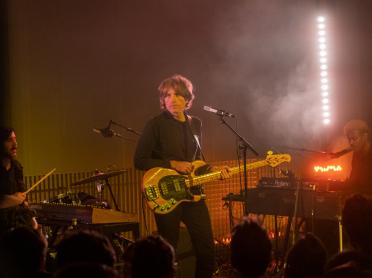 Maria Teriaeva + Tom of England (live w Bobbie Marie) + Nicolas Godin + Maria Somerville

Nicolas Godin
Long before the advent of Internet culture, Nicolas Godin, with the duo Air, had taken up the challenge of an omniscient music that built a bridge between a fantasized past and a future dreamer. Freed from the cult French touch duo, he now explores, alone, an unusual melodic music of fascinating beauty. It will be released in early 2020 "Concrete & Glass", a new album featuring Californian Colay Boyy and Alexis Taylor, escaped from Hot Chip for a mutant and timeless approach to melancholic pop music, carnal and bathed in keyboards of which he has the secret.

Tom of England (live w Bobbie Marie)
Thomas Bullock has long remained in the shadows shaking the depths of the world club scene. Collaborator of DJ Harvey, member of Tonka Hi-fi, Wicked Sound System and Rub N Tug, he produces under the name of Tom of England an electronic music tinged with punk and no wave which revives a golden age when the avant-garde frequented night clubs. Released on the LIES label this fall, his first moving essay is to be classified somewhere between Arthur Russell, PIL and Joy Division.

Maria Somerville
Inspired by the arid and wild landscapes of her native Ireland, Maria Somerville's music evolves between drone and dream pop. Sometimes reminiscent of Grouper or Cocteau Twins, the young musician's tracks are supported by minimal rhythms that multiply their evocative power tenfold. A music that willingly calls for vertigo and abandonment, never experimental and yet often surprising. Far from the ambient music created at the km, Maria Somerville succeeds in creating a captivating imaginary sound that should work wonders live.

Maria Teriaeva
A native of Siberia, Maria Teriaeva made her debut on the prolific Russian indie pop scene before going solo. It was her encounter with Music Easel (a modular analog synthesizer developed by Don Buchla that functions as a portable studio) that became the starting point for her debut album Focus. Her music navigates between Intelligent Dance Music, dream pop and ambient, with a melodic and aerial approach. Maria Teriaeva sees the modular synthesizer as an instrument like any other to play and explore. She designs in Russia innovative instruments and Buchla modules in parallel to her career as a musician and producer. Two activities on which a wind of freedom blows that allows her to contribute to the definition of futuristic and avant-garde music.
Nicolas Godin founded the AIR duo in 1995. Having become a major figure in French electronic music (or "French touch") alongside Daft Punk, the band has made a name for itself with catchy, dreamy and richly arranged music. In solo, the musician released his first album in 2015 inspired by jazz and JS Bach. In 2020, he will present Concrete & Glass, which marks a return to carnal and pop sounds, supported on two tracks by the voices of Californian Cola Boyy and Alexis Taylor of Hot Chip.
Tom of England is the project of Thomas Bullock, historical collaborator of DJ Harvey (within the Tonka Hi Fi collective in particular). This year, he released his first solo album on the LIES label, edited by techno producer Ron Morelli. His music navigates between songwriting, club music and the raw sounds of punk and recalls the golden age of New York's avant-garde in the late 1970s and early 1980s.
Inspirée par les paysages arides et sauvages de son Irlande natale, la musique de Maria Somerville évolue entre drone et dream pop.
Rappelant parfois Grouper ou Cocteau Twins, les morceaux de la jeune musicienne sont soutenus par des rythmiques minimales qui en décuplent le pouvoir d'évocation. Une musique qui appelle volontiers au vertige et à l'abandon, jamais frontalement expérimentale et pourtant souvent surprenante. Loin de la musique ambient créée au km, Maria Somerville réussit à créer un imaginaire sonore prenant qui devrait faire des merveilles en live.
Maria Teriaeva first played in several prominent indie pop and shoegaze bands in Russia. She attended the Red Bull Music Academy in 2015 and then started writing songs on her own after discovering Music Easel, a modular synthesizer created by Don Buchla in 1972. Her music oscillates between dream pop, ambient and electronica and is steeped in her research work on new instruments and innovative modules in Russia.