Christophe Szpajdel, Lord of the Logos
Friday 03 Jun 2022 from 5pm to 9pm
Saturday 04 Jun 2022 from 11am to 7pm
Sunday 05 Jun 2022 from 11am to 7pm
Presented by Goswell Road (Paris, France)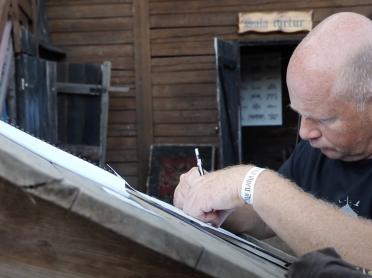 An exhibition by the self-proclaimed 'Lord Of The Logos'.
In the mid-1990s, Szpajdel came to prominence with his calligraphic work for metal bands such as Emperor, Old Mans Child, Enthroned, Borknagar, Moonspell, Desaster, and many others.

He has since designed logos for thousands of bands - one of the most important contributions to the extreme metal scene, and is considered one of the leading logo designers for heavy metal bands. Recently, Szpajdel has designed logos for Rihanna, Metallica, and designed the brand new Goswell Road logo, which will be reproduced on merchandise for sale at the fair.