Book launch, "Practical Encyclopædia. Detours"
Thursday 13 Feb 2020 from 6:30pm to 8pm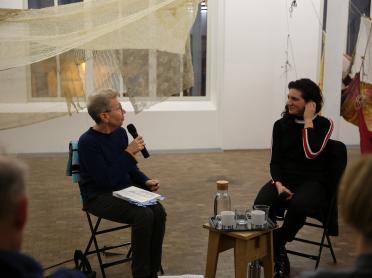 Discussion with Elisabeth Lebovici.
Since 2016, the choreographer Lenio Kaklea has been collecting the practices of Europeans. Following the streets and paths of Athens, Aubervilliers, Essen, Guissény, Nyon and Poitiers, she has collected nearly 600 unique stories.
This collection bears witness to the familiarity and diversity of the habits, rituals and trades that make up and distinguish these territories. From hunting to make-up, from idleness to zumba, "A practical encyclopaedia. Détours" shows a contrasting landscape where different ways of moving in the world intersect. By transcribing the voices of these actors, the choreographer composes an epic work based on our intimate relationship to movement and invites us to consider the space where the subject is constructed in action. Through this multilingual publication (French, German, Greek, English) Lenio Kaklea situates the work of the dance studio in relation to the places, gestures and relationships she has investigated.

"Encyclopédie pratique - Détours" is published by Les presses du réel, Paris.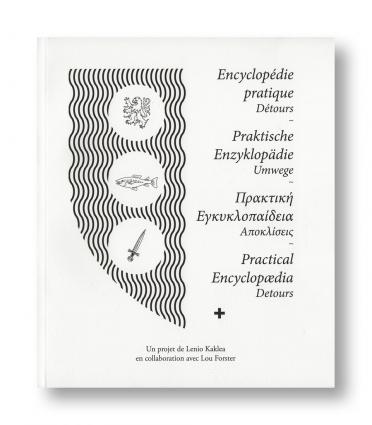 Lenio Kaklea est une danseuse, chorégraphe et écrivaine née à Athènes, en Grèce. Elle vit et travaille aujourd'hui à Paris.
Jeune danseuse, elle étudia au Conservatoire National de Danse Contemporaine d'Athènes (SSCD), où elle se forme au ballet classique et aux techniques et répertoires modernes américains tels que Martha Graham, Merce Cunningham et Jose Limon. En 2005, elle reçoit le Prix de la Fondation Pratsika et s'installe en France, où elle étudie au CNDC d'Angers (FAC) et commence à collaborer avec des personnalités de la scène européenne de la danse conceptuelle telles que Boris Charmatz, Alexandra Bachzetsis, Claudia Triozzi et Emmanuelle Huynh. En 2011, désireuse d'étendre sa pratique artistique, elle complète le programme SPEAP, un master sur l'expérimentation dans les arts et la politique dirigé par Bruno Latour à Sciences Po à Paris. Depuis 2009, Lenio Kaklea utilise différents médiums : la chorégraphie, la performance, le texte et la vidéo. Sa pratique artistique s'inspire du féminisme, de la psychanalyse et de la critique institutionnelle et explore les intersections entre la danse et la théorie critique. Dans son travail, elle explore la production de la subjectivité par la répétition et la transmission organisée des mouvements et cherche à révéler les espaces intimes et marginaux dans lesquels nous, en tant qu'individus, construisons notre identité. Un volet important de son travail est le projet Practical Encyclopaedia. Depuis 2016, parcourant les rues et les sentiers de différents territoires périphériques européens, elle rassemble près de 600 histoires uniques qui témoignent de la familiarité et de la diversité des habitudes, des rituels et des métiers qui composent et distinguent ces terrains. Différentes formes artistiques se manifestent dans ce projet (un solo de danse, un quatuor de danse, deux publications et une installation vidéo). Son travail a été présenté par différentes institutions et festivals à travers l'Europe tels que le Centre Pompidou, ImPulsTanz Festival, Fondation Onassis, Triennale de Milan, Laboratoires d'Aubervilliers, documenta 14-Programmes publics, NEXT Festival, Passerelle Art center, PACT Zollverein, Les presses du réel. Parallèlement à son travail chorégraphique personnel, elle s'engage dans des collaborations avec d'autres artistes. En 2013, elle poursuit une collaboration en solo avec la chorégraphe américaine Lucinda Childs sur la musique de Ryoji Ikeda. En 2016, elle est commissaire invitée à la Scène Nationale de Brest et présente Iris, Alexandra, Mariela, Katerina et moi, un focus sur la production chorégraphique féminine athénienne contemporaine. En 2017, elle accompagne la chorégraphie de la Suite No 3, un concert scénique de Joris Lacoste et Pierre Yves Macé. En 2019, elle collabore avec le pianiste Orlando Bass sur l'œuvre emblématique pour piano préparé de John Cage, Sonatas & Interludes. En 2019, elle reçoit le Prix de la Danse de la Fondation Hermès Italia et crée un nouveau solo pour la Triennale de Milan, Ballad.
Elisabeth Lebovici completed a PhD in Aesthetics in 1983. She has been writing art criticism since 1985, and was an arts and culture editor for
Libération
, from 1991 to 2006. Since 2006, she regularly writes her
critical blog: http://le-beau-vice.blogspot.com/
An AIDS activist, Elisabeth was the inaugural president of the Paris LGBT film festival, and is currently a founding membre of the LIG « Lesbians of General Interest » fund.
She has been involved since the 1990's into writing on feminism, activism, queer politics and contemporary arts. In 1998, she edited
L'Intime
(Paris, ensb-a). She is the author, with Catherine Gonnard, of a history of women artists in France between 1880 and nowadays:
Femmes/artistes, Artistes/femmes, Paris de 1880 à nos jours
(Paris, Hazan, 2007). With Catherine Gonnard, she is currently involved in a research on lesbian culture in the francophone media in the 1950's - 1960's. Her latest book
What AIDS Has Done To Me. Art and Activism at the End of the XXth C
, (JRP Ringier, « lectures Maison Rouge » 2017) has received the Prix Pierre Daix 2017 in art history. Elisabeth is in charge (with Patricia Falguières and Natasa Petresin-Bachelez) of a weekly seminar at the Ecole des Hautes Etudes en Sciences Sociales (EHESS) in Paris titled:
Something You Should Know: Artists and Producers
.
http://sysk-ehess.tumblr.com/
. Elisabeth is a member of « Travelling Féministe », around the archives of the Centre Audiovisuel Simone de Beauvoir.