The backstage of production: Isabelle Andriessen
Sunday 24 Jun 2018 from 2pm to 3pm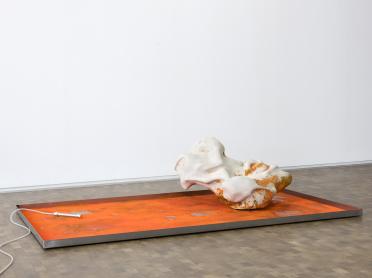 Lafayette Anticipations continues 'The backstage of production', a series of lectures through which the production team, in dialogue with curators and artists, shine a light on the processes of conception and production of its various artistic projects.
In the company of Hicham Khalidi (associate curator) and Dirk Meylaerts (production director), artist Isabelle Andriessen presents, during a public discussion, the different stages that punctuated the creation of Tidal Spill, a series of sculptures on display on the first floor of the Fondation.

Access to this event is free of charge.
Isabelle Andriessen investigates different ways of physically animating inanimate materials, and questions what is between being human and non-human, between living and nonliving.
She is artist in residence at Rijksakademie, Amsterdam until December 2018. She also participated in the Arts and Science Honours programme of the Royal Netherlands Academy of Arts and Sciences (KNAW) in 2016 following her studies at the Malmö Art Academy in Sweden and at the School of the Art Institute of Chicago.
The lafayetteanticipations.com website uses cookies for audience measurement purposes.
By continuing your navigation on this site, you accept their use.