Around the Centre #2
Saturday 08 Sep 2018 from 8am to 8pm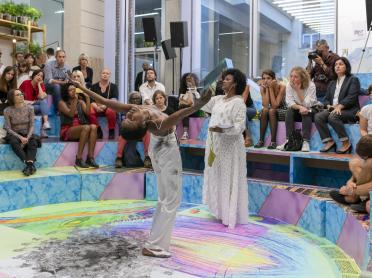 This second and last highlight of the exhibition 'Le centre ne peut tenir' in Lafayette Anticipations' Agora gathers three participating artists – Andrés Jaque / Office for Political Innovation, Ève Chabanon and Cooking Sections – as well as writer and curator Omar Berrada, architect Ippolito Pestellini Laparelli, curator Judith Wielander and choreographer Ana Pi.

Alternating conversations and performances, the gathering Around the Centre #2 proposes different positions in response to questions of geopolitics and identity: from shifting territories to the porosity of bordering territories, passing through the redefinition of local identities as intertwined with global ones.
Programme:

10 AM - 12:30 PM – Workshop by Cooking Sections
3:00 PM – Introduction by the exhibition Le centre ne peut tenir curators in the Agora, François Quintin, Charles Aubin, Anna Colin and Hicham Khalidi
3:30 PM – Andrés Jaque in conversation with Ippolito Pestellini Laparelli
4:30 PM – COROA (crown), a performance by Ana Pi
5:30 PM – Ève Chabanon in conversation with Judith Wielander
6:30 PM – Tombouctou 52 jours, a lecture-performance by Omar Berrada
8 PM – Cooking Sections (Alon Schwabe et Daniel Fernández Pascual), a performance dinner-cocktail (ticketed)
10 PM – The end

Practical Information:

Access free of charge for all, except for Cooking Sections' performance dinner-cocktail. The online ticketing is available: http://bit.ly/experimental-tasting


Detailed programme:

The gathering on Saturday, September 8 begins with an introduction by the curators of the exhibition, François Quintin, Charles Aubin, Anna Colin and Hicham Khalidi.

This presentation is then followed by a conversation between architects Ippolito Pestellini Laparelli and Andrés Jaque, both members of the Manifesta 12 curatorial team - a biennale currently held in Palermo until November 4. Beyond the artistic connections that link Manifesta 12 to Lafayette Anticipations (Rayyane Tabet was a participating artist in Joining Forces with the Unknown, Cooking Sections is currently participating in Le centre ne peut tenir and Andrés Jaque conceived the discussion and gathering space in the Agora), the European biennale tackles similar challenges to those addressed in Lafayette Anticipations' first group show, namely: the question of shifting territories and their contested borders, as well as the need to rebalance local and global interactions.

Introduction and conversation in English, translated into French.

***

The day continues with a choreographic piece tilted COROA (crown) performed by Ana Pi who, through a "perpendicular dance", invites the audience to appreciate the firmness of a standing body. A body that defies gravity, the laws of gravity that operate over all bodies, but also only on certain bodies selectively. The crown here alludes to those of the folias, reisados and congados (Brazilian Black Diaspora cultures); this object once opened the necessary space to a community, allowing its chiefs to reorganize their rule, and still functions as such to this day. COROA (crown) activates various ideas of black-brazilian body image, more specifically that of black-brazilian women, in order to provoke complexity in this area of often limiting representations.

***

Curator Judith Wielander leads a discussion with artist Ève Chabanon around the production phases and challenges of the collaborative project titled The Surplus of the Non-Producer, presented in Le centre ne peut tenir. The piece's starting point is the difficulty, or even the incapability experienced by the craftsman, the artist or the exiled cultural practitioner when confronted with legal or practical factors. These can include the lack of access to tools or to a workspace, the absence of traces to prove one's past work or one's network. Some of these practitioners eventually abandon their practice, considered obsolete or too far removed from Western European cannons. The Surplus of the Non-Producer questions the relationship between practice and identity, not only to prompt a debate, but also to create potential and value for those involved in the project.

Conversation in French, translated into English.

Judith Wielander is the co-founder and co-director with Matteo Lucchetti of Visible, a research project and biennale award for socially engaged artistic practices in a global context.

***

The new visibility granted to black bodies in Moroccan cities is accompanied by well documented verbal and physical violences. Amongst such violences, the most "harmless" one of naming this population "African", is revelatory as it ignores centuries of transsaharian exchanges, thus dismissing Africa as an radical alterity. When did the national narrative become so racialized? How did the Saharan desert become a border? Why is "Morocanness" thus opposed to "Africanness"? What is the role of colonial history in these symbolic constructions? In his performance-conference titled 'TOMBOUCTOU 52 Jours', Omar Berrada puts into perspective these questions by combining archival images, historical analyses, cinematographic edits and personal anecdotes. By weaving a fable with intertwined temporalities, Berrada gives voice to the silenced histories erupting in the present.

An earlier version of Tombouctou 52 jours was presented during Performa 17 in the "Afroglossia" programme, conceived by Adrienne Edwards.

Performance-conference in French, translated into English.

Omar Berrada is an author, curator, and director of Dar al-Ma'mûn, a library and artists' residence in Marrakech. He was a producer at France Culture, participated in the Revues parlées programme at the Centre Pompidou, and was curator at the Salon international du livre in Tangers. More recently, he directed Les Africains, a publication on immigration and racial dynamics in Morocco. He also conceived exhibitions around the work and archives of Ahmed Bouanani. He was guest curator of the 2017 Abraaj Group Art Prize and of the 2018 Forum 1:54, as well as co-author of tamawuj.org, the Sharjah Biennale's online journal. Berrada lives and works in New York, where he teaches at Cooper Union and co-organizes the university's IDS Lecture Series.

***

Finally, Cooking Sections (Alon Schwabe and Daniel Fernández Pascual) will conclude this day with a performance-tasting of wine and cheese that will extend the research led by the duo in the framework of their installation presented in Le centre ne peut tenir. Titled Losing Cultures, this new piece questions the very notion of "terroir" and its political, symbolic and economic implications, at a time of exacerbated climate change. For this event, Schwabe and Fernández Pascual aim to propose a new language to describe the products emerging from French landscapes that are transformed or in transformation due to climate change.

Event in English, translated into French. Online booking available: http://bit.ly/experimental-tasting
Ève Chabanon studied at the Haute École des Arts du Rhin (HEAR) in Strasbourg and at the Open School East, London/Margate. Through performance, writing and objects, Ève Chabanon creates situations – involving most often local communities, marginalized groups within and outside of educational structures – that produce spaces for questions and arguments.
Her most recent project is The Anti-Social Social Club: Episode One, The Chamber of the Dispossessed, a performance set up as a public debate at Barking Town Hall council chambers (2017). The purpose was to discuss, with a cross section of the borough, how to govern ourselves, how to organise, live, work and survive together. Sitting in the same seats and using the same microphones as the councillors, the audience became active participants, transforming the location into an imaginary shelter; this moved beyond art or theatre, and underlined the way in which open debate should be incorporated in the democratic political process. Ève Chabanon is currently working on two exhibitions, at Frac Grand Large (Dunkirk) and Clearview (London), both in 2018.
Cooking Sections is Daniel Fernández Pascual (born in 1984) and Alon Schwabe (born in 1984), a London-based duo trained in architecture and visual arts, namely at Goldsmiths University in London.
Often engaged in long-term research driven projects, Cooking Sections examines the systems that organize the world through the politics of food. Using installation, performance, mapping and video, their work explores the overlapping boundaries between geopolitics, visual arts, and the built environment. Cooking Sections' work has been presented at Storefront for Art and Architecture in New York (2017), the Neue Nationalgalerie Berlin (2014), the U.S. Pavilion for the 2014 Venice Architecture Biennale, and DOCUMENTA (13) in 2012. Cooking Sections is part of Manifesta 12 in Palermo. Their writing has been featured in a number of international magazines including e-flux magazine, Frieze magazine, and Volume as well as publications such as OfficeUS (Lars Müller) and Forensic Architecture (Sternberg Press). Their book The Empire Remains Shop (2018) is published by Columbia Books on Architecture and the City.
Architect Andrés Jaque is currently living and working between New York where he teaches (Columbia and Princeton universities) and Madrid where his architecture agency, the Office for Political Innovation, is based. In his words, Jaque sees architecture as a 'political and non-ideological activity', that is to say, as a constant practice of negotiation between various actors.
Jaque and his architecture agency undertake both commercial commissions such as residential housing, contemporary art fairs (e.g. ARCO in Madrid), the redevelopment of public spaces, as well as conceptual projects ranging from videos, performances, and multimedia installations. His most recent exhibitions Sex and the So-Called City was held at Storefront for Art and Architecture in New York. Addressing the legacy of the eponymous cult TV series of the early 2000s, Jaque examined in this exhibition the then radical urban change experienced by New York under mayor Michael Bloomberg. It is part of a series of works, including Pornified Homes (Oslo Architectural Triennal, 2016) and Intimate Strangers (London Design Museum, 2017) through which Jaque and his office explore the way real estate and online interactions are producing new forms of sexualized urbanisms. In 2014, Andrés Jaque received the Silver Lion of the Venice Biennale and in 2016, he was awarded with the Frederick Kiesler Architecture and Art Prize. Jaque currently co-curates the Manifesta 12 biennal in Palermo, together with Ippolito Pestellini, Bregtje van der Haak, and Mirjam Varandinis.