Sans titre (secu)
Materials:
Fabric, Thread
Dimensions:
Deux moitiés de "Bombers" noir et rouge assemblées, inscription d'origine brodée (SECURITY) plus fil et broderie manuelle (Vous n'avez pas répondu à mon regard). Pièce multiple unique.
Collection:
Lafayette anticipations - Fonds de dotation Famille Moulin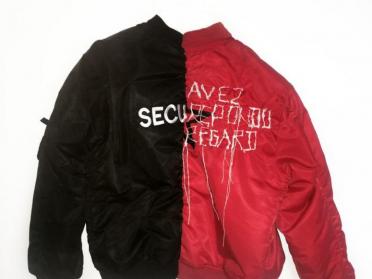 Vava Dudu
's work touches as much on clothing and accessories as it does on music, painting and drawing. Her underground universe flirts with mass media and mixes text and images. Her work as an independent stylist as well as singer in the band La Chatte, founded in 2003, makes up an artistic universe that claims a detachment from any utilitarian function. The pair of two-tone Bomber jackets Untitled (secu) and Untitled (rity) was designed in a spirit of reciprocity, to be worn by two friends. The jacket's initial function of providing security, deduced by the word "SECURITY", is hijacked, not without humour, by splitting the garment in two, and by a phrase, hand-embroidered by the artist, which alludes to the gaze and suggests a non-verbal language.
Exhibition
You
Musée d'Art Moderne de la Ville de Paris, Paris (France)
from 11 Oct 2019 to 16 Feb 2020