Sans titre (rosé)
Materials:
Paper, Bic pen
Dimensions:
20 x (21 x 31)
Collection:
Lafayette anticipations - Fonds de dotation Famille Moulin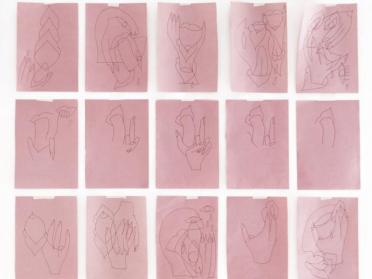 During a residency at Salon du Salon in Marseille in the summer of 2017, Vava Dudu created Sans titre (rosé), a set of twenty biro drawings on pink paper. Thin black lines represent fragments of female or male bodies. These highly stylized motifs are reduced to a few strokes as the artist likes "the idea of getting a message across in a single line." Breasts pointing to the sky, fingers swallowed by mouths, tongues buried deep in throats, lips placed on hands are juxtaposed in several sexual playlets. Whether repeated or nested within each other, these forms are mutually generative, creating new anatomies of desire. By mixing pleasure with obscenity—a fellatio appearing alongside a middle finger on the same sheet—Vava Dudu's drawings display a sexual iconography free of codes and norms. These are the same erotic images that the artist uses on various media, from walls to sheets and clothes.

Text written by Franny Tachon as part of the partnership between the École du Louvre and Lafayette Anticipations – Fonds de dotation Famille Moulin.