Pharmakon
Medium:
Typography on paper
Dimensions:
48,26 x 30,48
Collection:
Lafayette anticipations - Fonds de dotation Famille Moulin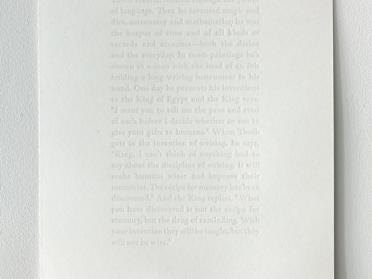 Typographie sur papier.
Edition 2/5 + II AP
Remède et poison, substance du soin et dont il faut prendre soin, le pharmakon est cette substance ambivalente, instrument libérateur comme outil aliénant. Il donne son nom à cette œuvre typographique sur papier d'
Ellie Ga
qui narre la naissance du dieu Thot et de ses pouvoirs. Parmi ceux-ci, « the drug of remininding », cette formule de la remémoration et de la mémoire qu'est l'écriture. De son travail en Égypte sur les vestiges d'Alexandrie, Ellie Ga a élaboré une réflexion sur l'écriture comme outil d'une archéologie de la mémoire. Support du souvenir, elle le traite également comme vecteur de l'oubli : le mot, ce pharmakon, extériorisation et matérialisation du souvenir, serait aussi ce qui nous éloigne du savoir mémoriel et du passé intériorisés.