For Kiyoko
Medium:
Inkjet print on paper mounted on Dibond
Materials:
Ink, Paper, Aluminium
Collection:
Lafayette anticipations - Fonds de dotation Famille Moulin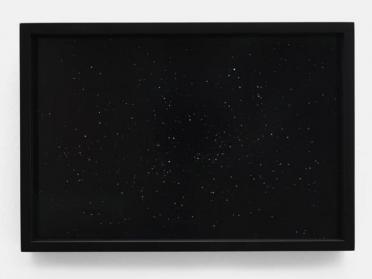 What appears at first glance to be a simple photograph of the night sky, For Kiyoko (2017) is not an ordinary celestial image. This elegiac work evokes the artist's personal story. David Horvitz travelled to Camp Amache, a Japanese-American internment camp set up during World War II in southeastern Colorado to photograph the stars in the night sky. He imagined his grandmother Kiyoko, who was still a teenager, looking at the stars from the place where she was detained seventy-five years earlier. Horvitz dedicates the work to her, thinking of Kiyoko's amazement at the stellar immensity, and declares his desire to document the "timelessness of space" and offer it to the viewer. Denouncing contemporary racism shortly after Donald Trump's election, he draws a direct parallel with current events, such as the ban on Muslims entering the United States and the repression of Central American migrants. Through this work, David Horvitz delivers a universal testimony that invites us to look to the past to shape the future.

Text written by Oriane Poret as part of the partnership between the École du Louvre and Lafayette Anticipations – Fonds de dotation Famille Moulin.
Exhibitions
Summer rains
SCAI The Bathhouse, Tokyo (Japon)
from 19 Jul to 07 Sep 2019
a n e m o c h o r y
Chateau Shatto, Los Angeles (États-Unis)
from 02 Nov to 15 Dec 2018
Eridanus
Galerie Allen, Paris (France)
from 23 Mar to 22 Apr 2017